Model Christie Brinkley Is Showing Off Her Grey Hair
"My son thinks it looks cool," she wrote on Instagram.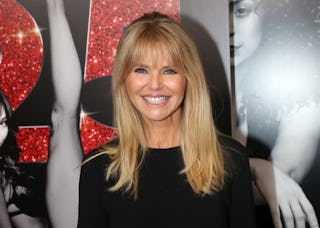 Bruce Glikas/WireImage/Getty Images
More and more celebrities are coming out to say that they are embracing the natural aging process and letting their wrinkles, gray hair, and loose skin remain intact.
From Sarah Jessica Parker to Emilia Clarke, women — who have long been told by society (men) that aging is gross and should be avoided at all costs — are now saying, "f—k that" and truly coming into their own.
Model Christie Brinkley, 69, recently posted some gorgeous photos from a beach shoot where her gray roots can be clearly seen, and she doesn't care. While posing in a casual outfit with ripped jeans and a long coat, she sat on a sandy beach where her natural beauty shines through.
Brinkley is one of the most famous models to ever walk a runway so, of course, the photos are going to be stunning — gray hair and all.
"Grey sky! Gray hair!" she joked in an Instagram post.
The mother of three then continues to dwell on the question that most women face as their hair color begins to fade — to dye or not to dye?
"The second you see gray hair, it raises the question, just like when you cut bangs ..to keep or not to keep?" she continued.
She then revealed that while the grey is doing her just fine and her son actually think it's "cool," she'd actually prefer for her roots to be white.
"Thank goodness both are just a personal preference or a fun change of pace. My son thinks it looks cool, but I think I may want to wait till it's more like the silver whitecaps than the grey wave itself!" she wrote.
For now, Brinkley intends to keep her gray roots. However, things can always change.
"The verdict is still out!" she concluded.
Brinkley shares daughter Alexa Ray, 37, with her ex-husband Billy Joel, and her son Jack Paris, 27, with her ex-husband Richard Taubman and daughter Sailor Lee, 24, with her ex-husband Peter Halsey.
In August 2022, Brinkley posted a makeup-free video, showcasing her morning routine while also showing how damaged her skin has become from sun exposure.
"As you can see, I have a lot of sun damage," said Brinkley. "I love the great outdoors. I grew up a surfer girl in Malibu, and from there I became a model and I was on every other beach in the world posing in a bathing suit with the instructions 'go get a tan.'"
The Covergirl legend is now more inclined to focus on her mental health and surrounding herself with people who bring light to her life. She says that's the key to happiness and gratitude.
"Forget anti-aging this and all of that. It's really about gratitude," she told People in January.
"It all has to do with your spirit and the energy that you deliver and bring into the room with you. That's what is going to define you. And when you find something to be grateful about in whatever situation you're in, and wherever you may find yourself, that translates to happiness, and happiness and good energy that you can share with other people."