SBTB Season 2 Trailer Hints Jessie & Slater Might Be A Thing Again
by Kristina Johnson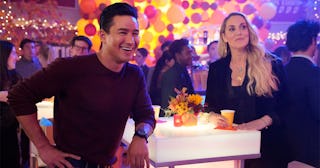 Casey Durkin/Peacock
Jessie and Slater are possibly back together and our 90s hearts can barely handle it
Get ready to go back to Bayside! Season two of the Saved by the Bell reboot is almost here, and a new trailer is giving fan a look at what's to come. There's drama, there's romance (Jessie and Slater? JESSIE AND SLATER??), there's Kelly Kapowski in a cheerleading outfit — what more could you want?
If you're not up to speed on the reboot thus far, here's how things stand: Zack Morris is the governor of California, and after all those years of vying for Kelly's affections with rival/best friend/fellow 90's heartthrob A.C. Slater, he's married to the former Bayside cheerleader. Their son Mac is following in his dad's footsteps at Bayside High, where Slater just so happens to be the gym teacher/football coach and Jessie Spano is the guidance counselor.
While Slater and Jessie weren't together in season one — to the disappointment of many fans of the original show — season two looks like it just might change that. There's a quick shot of the two chatting as Slater asks an emotional Jessie what's wrong. "Everyone knows I'm getting divorced," she replies — i.e., she's single! If that isn't foreshadowing, I don't know what it is. And it seems Jessie's BFF is thinking the same thing.
"Fate is real! You're working at the same school as your first crush," Kelly tells her. We get a brief glimpse of the former couple locked in an embrace at what looks like a high school dance, which should give 80s and 90s kids all the feels.
The generation watching this show for the OG cast also gets a glimpse of Kelly in her iconic cheerleader uniform, and if you used to wake up on Saturday mornings to watch this show, your back probably hurts just thinking about cheerleading, so good for Tiffani Thiessen. Lark Voorhies is also set to return as Lisa Turtle, though we don't get any hints about what she's up to in season two in this trailer.
As for the younger stars of the show, school president Daisy (one of several students bussed into the affluent Bayside High from a lower income school, per a scheme dreamt up by Governor Zack Morris) has romance on her mind as well, as evidenced by a cute new V.P. Oh, and the entire school seems be to hell-bent on breaking a 200-year losing streak in a school spirit contest longstanding rival high school Valley.
Shakespearean drama it is not, but it is good nostalgic fun. The new season drops November 24.