Scarlett Johansson Says Having A Three Year Old Is Like Being In An Emotionally Abusive Relationship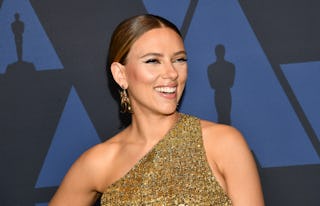 Variety/Penske Media/Getty Images
I call my toddler a "sour patch kid." One minute, she is screaming at the top of her lungs, tossing her lunch plate on the ground and crying her eyes out because I cut her banana wrong. The next minute, she's cozying up to me on the couch, calling me the "best mama."
Having a toddler brings me to tears on a regular basis and honestly, I never know if they're going to be tears of joy, anger, or utter exhaustion. Actor and mom Scarlett Johansson knows this all too well.
During a guest spot on Dear Media's The Skinny Confidential Him & Her podcast, Johansson described her motherhood journey while chatting hosts Lauryn and Michael Bosstick. The podcasters have a 3-year-old son and Johansson welcomed her second child — a son named Cosmo — with Saturday Night Live cast member Colin Jost back in 2021.
Johansson joked that when she had her first child — a daughter named Rose born in 2014 — she thought that parents were full of it when they talked about how draining kids can be until Rose turned 3 years old.
She told the podcasters that being a mom to a toddler is similar to being in an "abusive relationship."
"It's really tough. I remember my daughter, my daughter is eight-and-a-half, and when she was two, I said, 'This is great. I don't know what everybody is talking about.'' And then she turned 3 and it's like being in an emotionally abusive relationship," Johansson said.
Toddlers have massive mood swings, constant demands, and truly can provoke in a way no other age can. Johansson also noted that while toddlers can truly be emotional terrorists, they know not what they do.
"It's crazy, like very intense emotional swings and like, so bossy and adamant and like, it's just crazy. And, also these huge mood swings, constant mood swings, which I was like these, 'Those poor little guys.' I feel bad for 'em. You're like up and down constantly," she added.
She went on to talk about how much she enjoyed the baby stage, noting that they're so much easier to handle. "Having a baby is so lovely. They're so cute. They sit there and they love you and then that's it. And you just get like love from them."
Johansson also spoke about how having children made her rethink the kind of roles she chooses to take when it comes to her career.
"Now that my daughter is older, I really, you know, I don't work in the same way that I used to work when I was, you know, 25 years old," Johansson said. "I was very career-driven and focused at that time, and less focused on personal growth or whatever."
"I work, like, 15-hour days, you know, so if I'm gonna be working on something and have to relocate everybody, [it's] adventurous in some ways for the kids," Johansson explained. "But they also need stability, too."