'Sesame Street' Introduces The Show's First Filipino American Muppet
The new character introduction coincides with Asian American and Pacific Islander Heritage Month.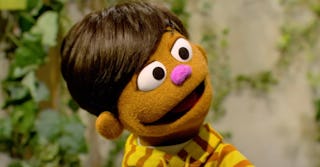 YouTube / Sesame Street
Beloved children's TV show Sesame Street has debuted its first Filipino muppet named TJ. In a recent segment of the TV show, TJ spends time with fellow muppets Ji-Young and Grover, as well as actor Kal Penn. The group discusses the word of the day: confidence.
"Confidence is when you believe in yourself and your abilities, or in the abilities of others," Penn explains.
TJ chimes in about how he has been working to grow his confidence while learning Tagalog — one of the main languages spoken in the Philippines.
"I'm confident because I can always ask my lola for help when I don't know a word," he says, using the Tagalog word for grandmother.
In order to ensure TJ's proper representation, Filipino American animator Bobby Pontillas collaborated with puppeteer Louis Mitchell to create the muppet.
On Instagram, Pontillas shared some of the concept artwork for the character.
"I had the amazing opportunity to work with the geniuses at the Sesame Workshop to create a Filipino muppet for @sesamestreet!" Pontillas wrote in the caption. "Meet TJ! For his look, I based him off of my lifelong friends' kids, Max and Mateo, thank you for the inspiration lads."
Rosemary Espina Palacios — Sesame Workshop's director of talent outreach, inclusion and content development — also posted to social media about TJ's debut, saying that his arrival came "just in time for API Heritage Month to show the range in our diaspora."
May is Asian American and Pacific Islander Heritage Month, a celebration of Asians and Pacific Islanders in the United States.
She added that she personally felt the topic of confidence could help "unravel the model minority stereotype."
The Model Minority stereotype is the cultural expectation placed on Asian Americans as a group that each individual will be, smart (i.e., naturally good at math, science and technology), wealthy, hard-working, self-reliant, living the "American dream," docile and submissive, obedient and uncomplaining and/or spiritually enlightened and never in need of assistance.
TJ joins Ji-Young — the show's first Asian American character — who was introduced in a Thanksgiving episode in 2021.
Watch TJ's first time on screen below.