Sharon Stone Revealed Her 'Basic Instinct' Nude Scene Contributed To Losing Custody Of Her Son
"The judge asked my child, my tiny little boy, 'Do you know your mother makes sex movies?'"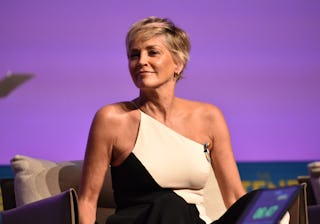 Deadline/Penske Media/Getty Images
Actor Sharon Stone — known for her leading role in the 1992 erotic thriller, Basic Instinct — revealed some devastating details about her custody battle with ex-husband Phil Bronstein over their adopted son, Roan.
Stone married Bronstein in 1998, and, due to her inability to have biological children, the couple adopted Roan in 2000. Their divorce was finalized in 2004, and though the former couple initially shared custody of Roan, later, Bronstein became the primary caretaker.
When Stone challenged this new agreement in 2008, she lost. Now, she's detailing why that may have been.
Stone, 64, revealed in a new interview with Bruce Bozzi on the iHeartRadio podcast Table for Two that during those contentious legal battles post-divorce, the judge point-blank asked her son if he knew his mom "makes sex movies."
"I lost custody of my child," she said. "The judge asked my child, my tiny little boy, 'Do you know your mother makes sex movies?'"
The "sex movie" in question, most likely being Basic Instinct, features Stone, arguably, in one of the most infamous nudity scenes of all time.
The scene that shows Sharon Stone's character, Catherine Tramell, repeatedly uncross her legs while not wearing any underwear during a police interrogation. The very brief moment of what Stone now refers to as "possible nudity" became a cultural phenomenon and something synonymous with her name. Much to her chagrin.
In her memoir — The Beauty Of Living Twice — Stone claims that she had no idea they were filming her from that angel and assured her that they could not see if she had on underwear or not.
"After we shot Basic Instinct, I got called in to see it. Not on my own with the director, as one would anticipate, given the situation that has given us all pause, so to speak, but with a room full of agents and lawyers, most of whom had nothing to do with the project," she wrote.
"That was how I saw my vagina shot for the first time, long after I'd been told, 'We can't see anything — I just need you to remove your panties, as the white is reflecting the light, so we know you have panties on.'"
She then revealed that immediately after the screening, Stone went to the projection booth and slapped the movie's director — Paul Verhoeven.
Sharon also remembered feeling like she had little choice over what to do, because she "was just an actress, just a woman." She ultimately opted for the scene to be included "because it was correct for the film and for the character; and because, after all, I did it."
Now, Stone revealed how that brief, infamous moment that, at the time, she felt was right for the movie and the scene, cost her primary custody of her son.
"This kind of abuse by the system, that it was considered what kind of parent I was because I made that movie. People are walking around with no clothes on at all on regular TV now. You saw maybe a 16th of a second of possible nudity from me, and I lost custody of my child," she said on the podcast.
Stone also divulged that losing custody of Roan quite literally broke her heart. She ended up in the Mayo Clinic with "extra heartbeats" in the upper and lower chambers of her organ, she explained.
Today, her is heart closer to mended, and she and Roan have a close bond. In fact, he filed legal papers in 2019 to add "Stone" to his name. Not that the happy outcome is any excuse for what seems to be an inexcuseable moment in the movie industry and an out-of-this-world sexist decision by the courts.