Shemar Moore Is Officially A Dad After Welcoming New Baby Daughter
Moore announced earlier this month that he and girlfriend Jesiree Dizon were expecting their first child together.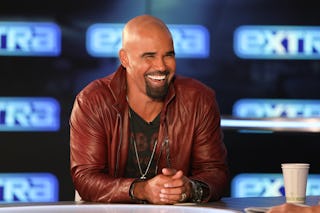 Paul Archuleta/Getty Images Entertainment/Getty Images
Everyone's favorite S.W.A.T. cast member is officially a dad! Shemar Moore has welcomed a baby girl into the world with girlfriend Jesiree Dizon. A rep for the actor shared that mom, dad, and baby are all doing well and feeling great.
"Shemar Moore and his partner, Jesiree Dizon, are happy to announce the birth of their baby girl," Moore's rep shared in a statement to People. "The family is very happy and healthy."
This is the third baby for Dizon, 39, who also shares a 5-year-old daughter with actor Stephen Bishop as well as a son from a previous relationship.
After People broke the news, Moore reposted the media outlet's Instagram announcement on his own page. "Ya boy is officially a Dad!!! Dreams come true!! The rest of my life is here! ❤️🙏🏽🙌🏽" he captioned the post.
Earlier this month, the Criminal Minds star appeared on The Jennifer Hudson Show, where he shocked fans with the news of his upcoming journey into fatherhood.
"I'm Shemar Moore, 52 and a half years old. My mother is in heaven right now. It'll be the three-year anniversary on February 8," Shemar explained in the clip, which was released on Jan. 9. "And on February 8, I'm going to make one of her dreams come true because, in real life, Shemar Moore is about to be a daddy," Moore gushed.
Hudson congratulated him on the exciting news and said she was sure that his mom is looking down on him. Moore shared how excited he was for this new chapter, adding, "I'm sorry she can't be here. I was worried for a while that it was a 'that ship has sailed' kind of thing, but God had my back and things lined up."
"It's going to be the best part of — my life is already pretty grand, but I know whenever God does call my name, once I get this experience, I'll be able to go to heaven whole."
After his talk show appearance, Moore shared footage on Instagram of the expecting couple's gender reveal party, sharing that he and Dizon were expecting a baby girl. "Mama's smiling from Heaven 🕊️ … Miracles happen … Here comes the BEST part of my life ❤️‍🔥," he captioned his video.
Congratulations to the new parents!