I'm Cold Just Thinking About It
Obsessed With Outlast? Sharpen Your Skills With These 7 Survivalist Shows
Do you have what it takes to build a shelter and make a fire?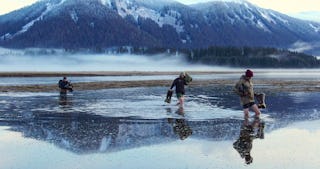 Netflix
What is it about survivalist shows like Alone that make them so fascinating to watch? The reality TV series has had a cult following since it first premiered on the History channel back in 2015. For survivalist fanatics who aren't familiar with the series, Alone follows 10 contestants as they struggle to outlast one another in a dislocated environment with limited necessities, jarring weather, and invasive wildlife. It's impossible to look away, yet the elements these individuals are up against are unfathomable to the average person — who is probably watching from the comfort of their couch.
For some fans, the appeal of survivalist shows stems from how truly mind-boggling it is. The idea of being stranded alone with nothing but the clothes on your back? In some cases, contestants don't even have that (hello, Naked and Afraid). No thank you, I'll stay in my sweats and enjoy my Starbucks coffee, please. Others tune into survival competition shows because they're a nice break from drama-fueled and scripted reality TV. Although that surely isn't the case with Netflix's latest survivalist hit, Outlast (IYKYK).
Whatever the magic ingredient is in survivalist reality TV programming, fans love it and want more. Discover shows just like Alone ahead, you'll be willing and able to face whatever Mother Nature throws at you.
1. Outlast (2023-)
Practically since the day it dropped on March 10, Netflix's new survival competition series has been trending — and it's not hard to understand why. Similar to Alone, the show sees competitors dropped in the remote Alaskan wilderness. The difference? They're split into teams and must work together to win the $1 million prize. But, spoiler alert, things get real Lord of the Flies.
2. Naked and Afraid (2013-)
In this Discovery Channel original, stranded contestants bare it all — *literally* — as they attempt to survive a 21-day journey out in the wild. Traditionally, one man and one woman are paired together with neither food nor water, nor the clothes on their backs. However, the duo is allowed one survival item. Super fans can also tune into Naked and Afraid XL, which sees Naked and Afraid all-stars battle the extremities of Mother Nature for a grueling 40 days.
3. Survivor (2000-)
With over 40 seasons under its belt, Survivor is one of the most beloved and longest-running reality competition TV shows. About 25 castaways are sent to a remote island, where they compete in a series of challenges in hopes of winning a million dollars. The goal is to outwit, outplay, and outlast your opponents, both strategically, socially, and physically. There's lots of betrayal, secret immunity idols, and heated tribal council discussions.
4. Running Wild With Bear Grylls (2014-)
If you enjoy watching celebrities battle it out on reality TV, then add Running Wild With Bear Grylls to your queue. The TV series follows renowned survivalist Bear Grylls and a celebrity companion as they embark on a 48-hour trek through some of the most dangerous environments around the globe. Previous celebrity contestants include Zac Efron, Ben Stiller, Channing Tatum, Natalie Portman, and Brie Larson.
5. Dual Survivor (2010-2016)
Dual Survivor is the show you watch before you compete on Alone. Each season follows two survivalist experts as they navigate a treacherous, wild location and debate what they believe is the best way to survive. The series goes far beyond foraging for food and water, and how to build a shelter. The experts aren't only duking it out with nature, but with each other as well. Whose survival plan is foolproof? Whose plan will get them out alive?
6. Survivorman (2004-2016)
In this one-man show, outdoorsman Les Stroud travels to a desolate location with nothing but his video recorder. For one week, he attempts to outlast the elements and wildlife all while documenting his journey on his camera. The series takes Stroud all over the world and every season features four to nine bite-sized episodes.
7. The Island With Bear Grylls (2014-2019)
Bear Grylls takes the backseat as he unleashes 13 Brits into the great unknown for four weeks with rations of food and water. The group must work together to build a shelter, provide for their tribe, and find the means to survive. Extreme weather conditions and invasive wildlife will only make their temporary home that much unlivable.