'Stranger Things' Star Noah Schnapp Comes Out As Gay In TikTok Video
"I guess I'm more similar to Will [Byers] than I thought," the 18-year-old shared of his on-screen character.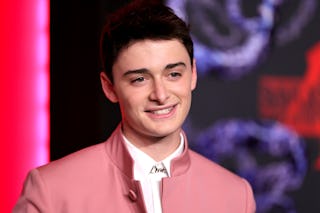 Theo Wargo/Getty Images Entertainment/Getty Images
Noah Schnapp, who plays Will Byers in the hit Netflix series Stranger Things, came out as gay in a TikTok video on Thursday.
In his social media post, the 18-year-old lip-syncs the words of another TikTok user, Princessazula0, while in bed.
"You know what it never was? That serious. It was never that serious. Quite frankly, it will never be that serious," Schnapp mimes, with his own text over the video reading, "When I finally told my friends and family I was gay after being scared in the closet for 18 years and all they said was 'we know.'"
In the video's caption, Schnapp added a note about of his beloved on-screen character, "I guess I'm more similar to Will than I thought."
It is believed that Will is gay and in love with his best friend, Mike Wheeler, played by Finn Wolfhard. Schnapp confirmed the popular fan theory over the summer in an interview with Variety.
"Obviously, it was hinted at in Season 1: It was always kind of there, but you never really knew, is it just him growing up slower than his friends? Now that he's gotten older, they made it a very real, obvious thing," Schnapp said. "Now it's 100% clear that he is gay and he does love Mike. But before, it was a slow arc."
Fans and followers on TikTok sent love and support to Schnapp, with many writing how happy and proud they were of him for sharing his truth.
"U r amazing," his twin sister Chloe wrote, with Schnapp replying, "Love you so much."