Taylor Swift's Love Interest In "Lavender Haze" Shows How Important LGBTQ Representation Really Is
"Having a trans person just being in love on screen, it's humanizing trans people."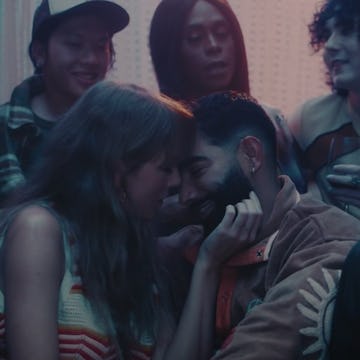 Taylor Swift/YouTube
On Jan. 27, Taylor Swift dropped the highly anticipated music video for "Lavender Haze" off Midnights. Swifties quickly started dissected the video for Easter eggs and other clues (naturally) but fans were especially excited to see transgender model Laith Ashley De La Cruz played the singer's love interest in the video.
Throughout the video, the two hold each other and lie in bed as Swift caresses De La Cruz's bare back. He also appears as a meteorologist on Swift's TV before appearing at a party with her in a loving embrace.
"Thank you @taylorswift for allowing me to play a small part in your story," De La Cruz wrote on Instagram after the video dropped. "You are brilliant, and this is an experience I will never forget. It was truly magical."
"Thank you for being an ally and for continuously using your platform for good. Representation matters. AND LOVDE WILL ALWAYS WIN!" the model continued.
"Having a trans person just being in love on screen, it's humanizing trans people," De La Cruz told BuzzFeed News. "We deserve to exist. We deserve to take up space in society. We will always exist regardless of anti-trans propaganda."
Fans were also over the moon about Swift's inclusion of De La Cruz in the music video.
"I mean Taylor Swift could've chosen anyone but she chose Laith Ashley, a transgender male actor, to be part of Lavender Haze mv. That shows how much she values inclusivity. Truly a LGBTQ+ ally!!!," wrote one fan.
"The love interest in Taylor Swift's new Lavender Haze music video is trans model and artist Laith Ashley. At a time when trans rights are increasingly under attack, this representation is major," wrote culture writer and reporter Ashley Spencer. According to the ACLU, over 120 bills restricting LGBTQ rights have been introduced in the U.S. in 2023 alone.
Watch the entire video for "Lavender Haze" below.