look what you made her do
A Mom Wrote The Best Note To Excuse Her Kid From School For Taylor Swift's 'Eras Tour'
The teacher's response was also priceless.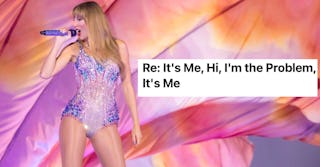 Christopher Polk/Penske Media/Getty Images; Twitter
Taylor Swift's The Eras Tour is in full swing and the pop sensation is headed to Houston in two weeks to play a three night stint at NRG Stadium. Swift gives her all in the essentially non-stop 3 hour, 44-song performance that ends around 11:15 PM. By the time concert-goers get out of the stadium, to their car, and on the road, it's well past midnight.
So, what's a mom to do when she and her daughter have tickets to Sunday night's show? You write your kid out of school, of course. She'll need a day to recover!
While any old excused absence note would do in this situation, one Swiftie mom took things up a notch in the best way possible.
Karen Vladeck — wife of law professor and CNN contributor Steve Vladeck — shared an email she sent to her daughter's teacher, explaining that she wouldn't be in school on April 24 due to The Eras Tour.
In true Swiftie fashion, the note was filled with Swift references and song lyrics. Are you ready for it? (See what I did there?)
"Dear Reader [Ms. Parks], I'm writing to let you know that Maddie won't be in school on 4/24 because she is going to the Taylor Swift concert in Houston," Vladeck writes.
"I hope missing school doesn't ruin her otherwise stellar Reputation, but she begged me to go and maybe I Should Have Said No but I didn't want to be Mean. So It Goes...Anyway, I hope this doesn't leave any Bad Blood between you and Maddie and that things for the rest of the year are not Treacherous."
Vladeck concluded the note, incorporating several more Swift song titles into her message, "I know I Did Something Bad and I promise this will be The Last Time she has an unexcused absence before the Cruel Summer starts. Forever & Always, -Karen Vladeck"
Vladeck shared the note on her Twitter and received tons of responses from fellow Swiftie parents and teachers who loved her Swift-inspired idea.
One educator wrote, "Teacher here. All good teachers are Swifties. It's just science. 🤷‍♀️"
Another wrote, "When are you accepting your best mom award? I love this."
Several Twitter users offered up their own Swift inspired responses. "Maybe she responds with 'Here's the homework she'll have to make up. Look What You Made Me Do'," one Twitter user replied.
Another wrote, "Hopefully she responds: I Knew You Were Trouble when you walked in. Evermore, Teacher"
Vladeck also shared her daughter's teacher's response: "THIS MADE MY ENTIRE DAY."
That post also revealed that the original email's subject line read, "It's Me, Hi, I'm the Problem, It's Me."