25 Gorgeous Baby Names Ripped Straight From Taylor Swift Songs
In the immortal words of the icon herself, "Call it what you want."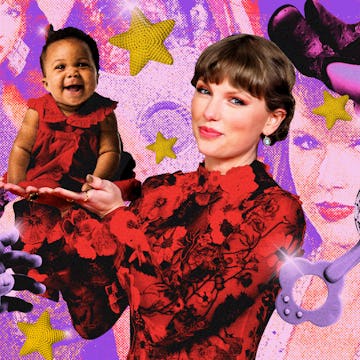 Ariela Basson/Fatherly; Getty Images, Shutterstock
Let's get this right out of the way upfront: Taylor Swift is an artist. I don't make the rules, people — this woman knows how to craft a catchy lyric better than most, from poppy superhits to cottagecore ballads and everything in between. She writes or co-writes all her songs, making her one of the most prolific lyrical storytellers of our time. (Yep, I said it.) So, you don't have to look hard to find inspiration in Swift's work. And if you're a Swiftie, that includes mining her music for baby names. Spoiler alert? There's no shortage there.
With a catalog of over 200 songs, Swift has dropped a lot of names in her lyrics. They range from simple and sweet, like Taylor, to a more poetic aesthetic, like Achilles. She's even mentioned the reported names Ryan Reynolds and Blake Lively gave their three oldest daughters — James, Inez, and Betty — in the aptly titled "Betty" from Folklore. The "Anti-Hero" singer could practically put out her own baby names book with a little something for everyone.
For the sake of this article, though, I've whittled the options down to a respectable 25 favorites pulled straight from Swift's songs. Swifties, take your pick!