Teen With Cerebral Palsy Gets Accepted Into Harvard, And His Reaction Will Make Your Day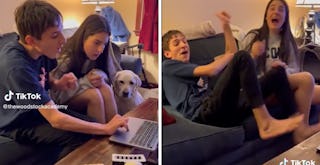 TikTok
Matthew Myslenski, a senior high school student from Boston, recorded his reaction to opening his college acceptance letters, a trend many college kids are doing on social media these days. This one, however, went viral overnight because people could not get enough of his heartwarming reaction — or his huge accomplishment. The Connecticut independent boarding school, The Woodstock Academy, shared the video after it was submitted by his sister, Magda.
"I'm not crying; YOU'RE crying! 😭 Senior Magda Myslenski shared this video of her twin brother, Matthew, finding out he was ACCEPTED TO HARVARD!" The school captioned its post. "Congratulations Matthew! 🎉 You make us so proud. Two wonderful human beings right here! ❤️ Now, please pass the tissues."
Matthew was shown sitting on the couch with his twin sister, Magda, as they opened the email and began screaming, "Oh my god! no way!"
"I'm am definitely crying….what a beautiful moment!!" one follower wrote. "This just totally made my day!!! Thank you for sharing 👏👏👏 Congrats Matthew!!" another shared.
The sweet video gained over 800k views on TikTok, and another 70k and counting on Instagram, prompting interviews with news stations like CBS Boston and a feature in TODAY.
"I am over the moon. It's been my dream to go to this school since I was young," Matthew told CBS Boston. "It shocks me how many people have seen my reaction."
Matthew was born with cerebral palsy, a condition that affects the ability to move and maintain balance/posture. He's said that since he was seven years old, he had dreamed of attending Harvard University. He admired the Ivy League institution after learning that his doctors, who have cared for him for years at the Boston Children's Hospital, had gone to Harvard.
"My two doctors are amazing people. And when I found out they were associated with Harvard University, I always looked up to that," he explained.
His sister, who was also seen in the reaction video, is very proud of her brother, sharing, "I saw the confetti pop up on the laptop, and I was like 'oh, my gosh this is really happening. I am so proud of him. I've been with him for 17 years now and watching every step and everything he has done. It's so well deserved."
Okay, I'm crying...again.
Matthew plans to major in biology in the fall, and though he's not sure what direction he will go in just yet, he knows he wants to be a doctor one day. When asked if he has any advice for others who are facing hard challenges, he shared, "Sometimes it takes me five times longer than someone else to accomplish a task, but I still burst through and overcome it."
That is simply the most inspiring thing in the world.
"Not only did I have to challenge myself academically, I had to physically work to get to a point that I can do what I want to do," Matthew explained to NBC Connecticut. "I don't limit myself with anything, and I want to inspire others to not limit themselves either."
I think you succeeded, Matthew. Good luck at your dream college in the fall!