The Way Home, Hallmark's New Hit, Has Already Been Renewed For Season 2
You can never go wrong with Andie MacDowell.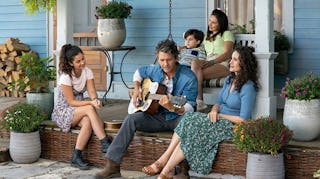 Hallmark
Do we love our dark and gritty true crime? Obviously. Refreshingly realistic comedies in which moms are whole*ss complicated human beings? You betcha. But most of us are also total suckers for a wholesome Hallmark series. Good Witch made us want to visit Bell, Book, and Candle for some of Cassie Nightingale's herbal tea (and eerily good advice). Chesapeake Shores reminded us that you can always go home. When Calls the Heart delivered the 1900s prairie romance we never knew we needed. And the latest irresistibly feel-good series to join the ranks just got picked up for another batch of episodes. That's right; The Way Home Season 2 has already been given the go-ahead.
When it first dropped in January 2023, The Way Home didn't just usher in Andie MacDowell's "return" to Hallmark — it brought a touching generation-spanning tale of womanhood and family. Following three generations of Landry women as they work to reconnect, The Way Home is everything missing from television right now. It's reminiscent of all the best family-centric dramas, from Parenthood and Brothers and Sisters to Jane the Virgin and even Gilmore Girls. No matter where you fit within your family, there is a character and a storyline you can latch onto. The drama isn't soapy but genuine and heartfelt, showing how each woman's mistakes or issues can touch each generation around her. It is the very essence of "good TV." And now it's been picked up for Season 2.
"The press and our audience have enthusiastically embraced The Way Home from the first episode, making the decision to renew the series an easy one," said Lisa Hamilton Daly, Executive Vice President of Programming for Hallmark Media, told Deadline. "We're thrilled to be able to continue the journey of the Landry family and can't wait for fans to see what's next."
But what can you expect from The Way Home Season 2? Let's take a look.
What is The Way Home about?
According to the show's official synopsis, it "tells the story of three generations of women — Kat Landry (Chyler Leigh), her teen Alice (Sadie Laflamme-Snow), and Kat's mother Del (MacDowell) — who are all strong, willful, and independent. More than 20 years prior, life-changing events prompted Kat to move away from her small, Canadian farm town, and she remains estranged from Del to this day."
But we all know how these stories go, right? "At a crossroads in her life, Kat moves back with Alice to her family's farm, though the reunion isn't what Kat envisioned," the show description continues. "When Alice and Kat unwittingly discover the ability to travel between past and present, mother and daughter are determined to unearth the truth about the earlier tragedies as they try to change the course of events. Kat's childhood friend Elliot (Evan Williams) is there for them in both eras as they navigate their journeys across time, helping the three women find their way back to each other."
When does The Way Home Season 2 premiere?
Little more has been said about when fans can expect the second season of The Way Home. It's worth noting, however, that it just premiered in January on The Hallmark Channel, with the finale airing Sunday, March 26. Since most scripted seasons are about a year apart, you probably shouldn't expect The Way Home Season 2 until early 2024.
Who's returning for The Way Home Season 2?
It's hard to imagine a second season without, at the very least, the show's three stars. You should expect the return of MacDowell as Del Landry, Leigh as Kat Landry, and Laflamme-Snow as Alice Dhawan. Of course, we're also rooting for the return of Alex Hook, who was absolutely enthralling to watch as Young Kat.
What will this next season center on?
It's way too early to tell! However, there are still more questions to answer about Kat and Del's past — and a ton of healing needs to happen among the Landry women. Hopefully, the second season offers even more closure for Kat and gives Alice and Del a chance to solidify that granddaughter-grandmother relationship they've lived too long without.
How can you watch The Way Home?
The series is currently streaming on Hallmark Movies Now as well as Hallmark TV. While you can access the episodes for free via Hallmark TV if you have a TV service login (i.e., Dish, DirectTV, Philo), you'll need a subscription to watch via Hallmark Movies Now. The series is also available to rent or purchase via Amazon Prime Video and Vudu.