25+ TV Series About Witches And Magic Sure To Cast A Spell On You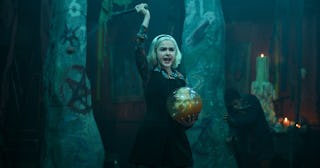 Diyah Pera/Netflix
Autumn has arrived, which can only mean one thing — the Halloween season is officially underway. From haunted hayrides and pumpkin-carving contests to the consumption of lots and lots of candy, fall truly is a magical time of year. Speaking of magic, it only seems appropriate to take some time to pay homage to one of the central figures forever linked to this spooktacular holiday: witches. Good or bad, these wicked ladies always find a way to leave us spellbound (get it?) in some form or another, whether it be in major cult classic films like Hocus Pocus or some of the many TV shows about witches that exist on the small screen.
Scary movies may get all the attention during the Halloween season, but TV shows about witches and magic can be just as captivating as any Michael Myers or Freddy Krueger film out there. Given the vast array of streaming options at our disposal these days, though, it can understandably feel a little overwhelming, which is why you might need a little guidance finding the best witch-centric shows out there to get you in the festive mood. So check out the list below, if you dare — for something wicked this way comes.
Best Witch TV Shows
1. The Chilling Adventures of Sabrina (2018-2020)
This dark coming-of-age Netflix Original series is a fun (yet spooky) adaptation of Sabrina Spellman's origin story as she struggles with living two different lives — one as a teenage high school girl and the other as a witch. So, what happens when those two very different worlds collide? Double double, toil and trouble.
2. The Magicians (2015-2020)
Based on the Lev Grossman novel of the same name, The Magicians follows a group of students at Brakebills College for Magical Pedagogy as they navigate their growing powers and the various evils that enter their orbit. And don't let the name of the show fool you — witches can go by many different names like enchantress, sorceress, and yes, even magician. So, if casting spells and supernatural hijinks is your cup of tea, this Syfy series (which you can find in full on Netflix) has plenty of tricks and treats to go around.
3. Sabrina the Teenage Witch (1996-2003)
Then again, if fun, light-hearted comedies are more your speed, then why not set your sights on everyone's favorite witch series of the '90s, Sabrina the Teenage Witch? Sure, it might center around the same character as The Chilling Adventures of Sabrina, but make no mistake — this series (which you can find on Hulu) tells a very different story with a much more uplifting vibe, including a talking bionic cat and a good old-fashioned laugh track.
4. The Vampire Diaries (2009-2017)
Forget what the title seems to indicate; this former CW series (now available on Netflix) is about a lot more than just vampires. In fact, there are a ton of supernatural beings that get introduced throughout the show's eight seasons, and witches are usually at the forefront of that action. (A lot of times, they're the only ones who can keep those pesky vamps in line.) Yes, it's a long series with some pretty complicated storylines. But the acting is top-notch with plenty of magical shenanigans to go around that'll keep you riveted long after Halloween season is over.
5. Charmed (1998-2006)
When it comes to good witches, it can't get much better than the Power of Three. Based in San Francisco, the series (available to stream on Peacock) centers around three sisters who discover that they are actually powerful witches who have a great destiny to fulfill. One can freeze time, one can move things with her mind, and one can see into the future. But fighting evil can sometimes come with a price that not even magic can fix, which is why it's so crucial for them to stick together. After all, there's nothing stronger than the bonds of sisterhood.
6. A Discovery of Witches (2018-present)
What happens when a witch falls in love with a vampire? Well, for one thing, it makes for a very compelling series (available to stream on AMC) that truly redefines just how dark and complicated forbidden love can be. Think Romeo and Juliet but with a supernatural twist.
7. American Horror Story: Coven (2013)
American Horror Story has several series about the supernatural, but Coven has been appointed, arguably, the franchise's best series. These witches stumble together to form a coven, and along the way, face zombies and ghouls. The show takes place in New Orleans and is filled with Louisiana style and horror. This series is terrifying in both a historical and supernatural sense. Plus, Kathy Bates and Angela Bassett are in it!
8. The Worst Witch (2017-2020)
If you're looking for something British, supernatural, and not Harry Potter, The Worst Witch is the series for you. After a witch named Maud Spellbody crashes into young Mildred Hubble's balcony, Hubble learns magic is real. Spellbody introduces her to the Cackle Academy and the world of witches. And although Hubble's life has been turned upside down, there's nothing she and her friends won't do to keep from being the worst witch.
9. Motherland: Fort Salem (2020-present)
Are you looking for a bold sci-fi plot with kick-ass female soldiers who are also magical? Motherland: Fort Salem turns sorcery on its head with its military plot. In this series, the U.S. government trains a group of witches to become powerful weapons of mass destruction. Motherland: Fort Salem is unique and a perfect modern take on a classic witch tale.
More Shows About Witches:
The Worst Witch (2017-2020)
Salem (2014-2017)
Charmed (2018-present)
Good Witch (2015-2021)
The Witcher (2019-present)
The Originals (2013-2018)
Midnight, Texas (2017-2018)
Once Upon a Time (2011-2018)
Legacies (2018-present)
Penny Dreadful (2014-2016)
Supernatural (2005-2020)
Bewitched (1964-1972)
WandaVision (2021)
Light as a Feather (2018-2019)
Witches of East End (2013-2014)
Buffy the Vampire Slayer (1997-2003)
Cursed (2020)
Switch (2012)
This article was originally published on