(don't) stay together for the kids
Tia Mowry Says Her Divorce Is 'The Best Gift' She Could Give Her Children
"A part of my decision was also for them," the actor says.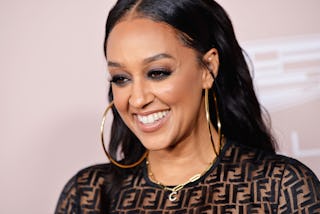 Chelsea Guglielmino/FilmMagic/Getty Images
Tia Mowry opened up in a recent cover story for HelloBeautiful, and discussed why her decision to separate from her husband was ultimately in the best interest of her entire family.
The 44-year-old mother of two says she is "chasing her truth" by filing for divorce from the All American: Homecoming actor, Cory Hardrict. Mowry explained that the separation is "the best gift" she could give her children.
"A part of my decision was also for them," Mowry said of filing for divorce for her two children, daughter Cairo, 5, and son Cree, 11. "For them seeing their mother walk in truth, I feel like it's a great lesson for them because it was not an easy decision."
She went on to explain that she wants her kids to see their mom go through hardship, make tough decisions, and come out stronger in the end with no regrets.
"It was one of the hardest decisions that I had ever had to make in my entire life," she explained. "But if they see that mommy can do it, that mommy, no matter what people say, no matter, even if there's some sort of doubt, whatever, mommy pushed through."
"[They can say] my mommy is living and chasing her truth. I want my children to do that," the actor continued. "That's the best gift I can give them."
"I want for them not to live a life that I want them to live, for them not to live a life that everybody else wants them to live or what they think that they should be or live," she added.
"I want them to see that it is okay to have a bad day," she went on. "I want them to see that it is okay to chase your joy. I want them to see that it is okay to live your truth."
Mowry announced her and Hardrict's decision to end their 14-year marriage last year in a vulnerable and honest Instagram post. Despite ending their relationship, the couple made it clear that their children come first.
"These decisions are never easy, and not without sadness. We will maintain a friendship as we co-parent our beautiful children," the Sister, Sister alum wrote at the time. "I am grateful for all the happy times we had together and want to thank my friends, family and fans for your love and support as we start this new chapter moving forward in our lives."
Six months after announcing their separation, Mowry and Hardrict's divorce was finalized.
For now, Mowry is all about living a real life, in her truth, with intentions set on making herself happy.
"I'm chasing my authentic self, my potential. That's where the magic happens: when you are living your truth," she says.
"That doesn't mean that your truth is always going to be rainbows and Skittles. Joy and happiness is like a rollercoaster. What made me happy 10 years ago is different than what's making me happy now."