'Vanderpump Rules' Star Lala Kent Claps Back At Mom-Shamers Criticizing Her Thong Swimsuit Photo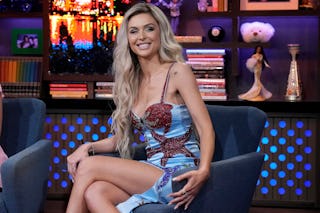 Bravo/NBCUniversal/Getty Images
Here we are, once again, with yet another celebrity having to speak out after getting lambasted on social media by mom-shamers who cannot handle a woman's postpartum bod or a woman's ability to still be sexy after having babies.
Vanderpump Rules star Lala Kent posted a story to her Instagram, expressing her frustration with people who continually post comments about her in a negative light, mainly because she's a mom who still struts her stuff.
Kent, mom to 2-year-old, Ocean, recently posted a slideshow photo post on her Instagram featuring two pictures. One photo featured Ocean and VPR costar Scheana Shay's 2-year-old daughter, Summer. The other photo was Kent looking amazing in a thong swimsuit.
This was evidently too much for some, and after receiving a slew of hateful comments, Kent struck back.
Some commenters said the decision to post both photos at the same time was "weird on every level" while others quite literally shamed her, with one person writing, "shame on you."
Lala wrote back in true Lala fashion, "I'm so over the mom shaming from some of you women. I'm a parent, work full time, rarely have one moment for just me, and for just a second on the 4th of July I felt hot and wanted a picture. Anything but praise is unwelcome. If you have anything negative to say, go f*ck yourself. Leave me alone."
You heard her!
She also added, "For the record, the kids weren't watching me take this picture. And even if they were, we all have butts. Take time to love on yours."
Despite the eye-roll worthy comments from people who cannot handle seeing a butt, Kent did have several fans speaking up for her in the comment section, defending her right to be a mom and be sexy.
One fan wrote, "There's a whole lot of misguided virtue signaling in this comments, from people triggered by a woman who doesn't need permission. Go off LaLa, this is what self love and self worth looks like 👏👏👏"
Other fans pointed out the internalized misogyny the mom-shaming comments are laced with.
"Men never have to put up with this kind of verbal lashing!" one user wrote.
Another echoed, "If it was a dad in his speedos saying 'daddy's turn' NO ONE WOULD BAT AN EYELID. Women are shamed for far too much and majority is other women tearing them down."
Moms being shamed for showing some skin is nothing new. However, it seems like lately, it's all anyone can talk about. Kent is not the only famous mom who has had to go on the offense for showing her booty.
Following her appearance at an Usher concert in Las Vegas in a black bodysuit, Keke Palmer's boyfriend and father of her child, Darius Jackson, tweeted about Palmer, bashing her clothing choice, saying, "It's the outfit tho…you a mom."
Before deactivating his Twitter account, Jackson doubled down on his stance.
"We live in a generation where a man of the family doesn't want the wife & mother to his kids to showcase booty cheeks to please others & he gets told how much of a hater he is," he wrote in a follow-up tweet. "This is my family & my representation. I have standards & morals to what I believe. I rest my case."
Cringe! Are men so insecure that they think a mom showing some booty cheek is going to be the demise of their family? I think we all know what really can cause marriages to crack and crumble.
Dear Men: the call is coming from inside the house!