10 Shows To Binge After The Vanderpump Rules Reunion
Did I just become a Bravo stan?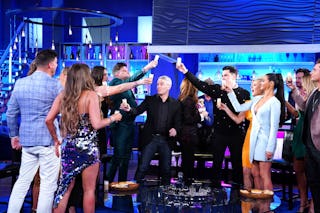 Bravo
Whether you've been a longtime Vanderpump fan or are a newcomer entranced by "Scandoval," you are not ready for a summer without incestuous work friends and petty drama. Tom Sandoval may have ruined your summer white polish pick, but he's also awakened the utter need that all of America has for a cheating scandal, an unlikely villain, and a queen to rally behind.
Don't worry; I have your cheat sheet, and it's almost entirely on the Bravo network. While there is no shortage of reality tv, Bravo has perfected the cocktail of organic friend groups and outrageous personalities.
If you're just catching up and have only caught the latest season, I recommend you take it back to Season 1 and run all the way through. Some of the show's most pivotal and salacious characters, like Stassi Schroeder, Jax Taylor, and Kristen Doute, aren't even in Season 10. If you've done your due diligence and are looking for something to keep your gossip cup full, here are ten Bravo shows that are good as gold.
1. Summer House
On the fifth season of Vanderpump Rules, the cast joined Stassi Schroeder for a trip to visit a group of her friends at the Hamptons in New York. However, when the cast heads back to LA, the cameras stay put — giving us an official crossover to the series Summer House. The show follows a group of young professionals who share a beach house in Montauk to escape city life every summer.
2. Summer House: Martha's Vineyard
If you love Summer House but wish there was more diversity, its spin-off in Martha's Vineyard is for you. This series follows 12 professionals and entrepreneurs of color as they vacation, island-style. It's the newest addition to the Bravo universe, with its first season premiering just this month! It's brimming with beach parties and summer hook-ups, just like its sister show.
3. Southern Charm
This reality series has been around just as long as Vanderpump Rules, with a total of eight seasons and multiple spin-offs. The original series takes place in Charleston, South Carolina, following the lives of young socialites in Southern culture. Think Bridgerton, but modern-day country.
After premiering in 2013, the popular concept began filming spin-offs in 2016, airing Southern Charm Savannah and Southern Charm New Orleans.
4. Southern Hospitality
While it is its own show, it is also born from Southern Charm, as it follows cast member Leva Bonaparte, who, like Lisa Vanderpump, manages a Charleston nightclub while cameras follow the lives of her staff.
This series structure is closest to VP, and even features multiple restaurants with staff rivalry, as Leva owns four restaurants on the famous strip of King Street alongside her husband, Lamar Bonaparte. What sets these restaurants apart is their transition from brunch spots to nightlife, where the cast includes not just servers and bartenders, but promoters and bottle girls as well.
5. Below Deck
Restaurant culture is one thing, but when you put it on a boat, it's a whole new world. Below Deck chronicles the lives of yacht crew members, who live, work, and play on luxury boats and serve the elite in close quarters. Crew members tour the world with seasons in various countries in the Caribbean.
The show is so juicy it not only has run for 10 seasons with an eleventh underway, but it also has a whopping six spin-offs: Below Deck Adventure, Below Deck After Show, Below Deck Down Under, Below Deck Mediterranean, Below Deck Mediterranean After Show, and Below Deck Sailing Yacht.
6. Winter House
This show concept takes it up a notch, merging the cast of Summer House and Southern Charm all under one roof for a 17-day getaway tucked in the mountains of Vermont. The initial season features Amanda Batula, Paige DeSorbo, Kyle Cooke, Luke Gulbranson, Ciara Miller, and Lindsay Hubbard, along with Southern Charm's Austen Kroll and Craig Conoverson. Its second season welcomes newbies Andrea Denver, Julia McGuire, Gabby Kniery, and Jason Cameron.
Spoiler Alert: You might see Tom (Schwartz) and Tom (Sandoval) on their upcoming season.
7. Vanderpump Rules: Jax And Brittany Take Kentucky
While we patiently wait for the newest reality series Vanderpump Villa that Lisa launched with Hulu (and enjoy Tom Schwartz surviving on Mars), the mini-series special about Jax's visit to Kentucky does not disappoint. The show features six episodes and sheds light on life on the farm, Brittany's family, and Jax's hilarious attempts to impress them.
8. Love Match Atlanta
If Million Dollar Matchmaker and Summer House: Martha's Vineyard had a baby, it would be Love Match Atlanta. It turns out the matchmaking industry is mostly unexplored territory, which means everyone knows each other, and the competition for clients is fierce. This show follows a group of high-level matchmakers who run the dating scene in Atlanta. Its first season premiered in 2022, and there's been no confirmation on whether or not it'll be picked up for a second.
9. Gallery Girls
If you're a rom-com girlie, chances are your favorite characters have been art gallery curators, because what is more fabulous than high-end fashion and expensive art? This series follows seven real-life up-and-coming curators working in the heart of New York City. While the premise seems great, the series was never picked up for another season after its premiere in 2012. However, if you get overwhelmed with the countless seasons and endless spin-offs with the others listed, this is a perfect binge.
10. Selling Sunset
Just when you thought restaurant drama was elite, the world was introduced to the ego-driven and absolutely unhinged culture of real estate agents. This series focuses on the million-dollar agency The Oppenheim Group, run by twin brothers Jason and Brett Oppenheim, and their catty but stylish agents in Beverly Hills.
Its sixth season, which premiered last month, was its best yet, and the series has already been renewed for the seventh. The Netflix show also earned a spin-off show, Selling OC, which follows the agents at Oppenheim Group's Orange County location.
Considering the fact that Vanderpump Rules' nine seasons kept me full for four months straight, you'll be stuffed with this lineup until its next season premiere in February 2024.