Who Is Rory's Baby Daddy? An Insider Answers Gilmore Girls' Biggest Question
Are you Team Jess? Team Logan? Team Paul? Team Wookiee? The father has reportedly been revealed.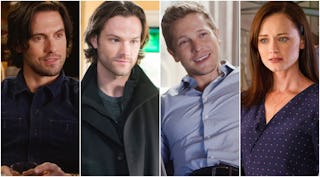 Netflix
When we were last in Stars Hollow, Rory Gilmore dropped a bombshell. In just two words, our entire world (and presumably Lorelai Gilmore's world) had been turned upside down. "I'm pregnant," was the last thing Rory said in the final installment of Gilmore Girls: A Year in the Life, Netflix's long-awaited reboot. For many fans, it left us with more questions than answers. In each of the four seasonally-set episodes, we watched Rory get some much-needed catharsis between the sheets with various dudes, three confirmed and one suspected. So, who was the mystery man who gave Rory the "gift" of a Gilmore motherhood? We didn't know! And we needed to know! Y'all, there is literally tons and tons of fan fiction out there devoted to everyone's theories on mom-to-be Rory's "baby daddy." Were any of them right?
According to Gilmore Girls' wardrobe designer Valerie Campbell, there's only one possible correct answer. And after years of watching the rumors and speculation never really die down, she's taking matters into her own hands with a series of posts to explain. OK, let's bite.
"The only obvious choice is — you guessed it — Logan," Campbell said. "If it was Paul, she would've had the baby in the 'Fall,' if it was the Wookiee, she would've been about to burst."
That's right: The only possible dad to Rory's child is Logan Huntzberger (Matt Czuchry).
Campbell goes on to discuss that in their various wardrobe meetings, dressing Rory to showcase a bump or hide a pregnancy was never addressed. While some women do, in fact, stay relatively small during pregnancy, it's not exactly common — especially in the world of television. Bursting bellies just make for better telly. And if Rory were pregnant by Paul or "the Wookiee," Campbell is right: She'd be showing in the last scene.
Campbell suggested the truth was never meant to be a surprise or secret, stating that even Gilmore Girls' creator and showrunner Amy Sherman-Palladino has wondered why people "are even questioning who the father is because it's supposed to be very, very, very, very, very obvious."
Is it, though, Amy? Is it?
We can rule out Paul and the Wookiee quickly enough. However, there's one other person worth bringing into the fold: Jess (Milo Ventimiglia). We don't explicitly see them having sex, as we do with Rory and Logan, but we didn't see her hook up with Paul or the Wookiee either. Jess and Rory have always had undeniable chemistry, even to her other boyfriends. It's why both Dean and Logan were wildly jealous of Jess throughout the original series. During A Year in the Life, we watch Rory and Jess drink and pal around, just like they used to with the kind of mutual respect they always gave each other. So, although it may not be safe to say they definitely had sex, it's also not safe to say they definitely didn't. After all, who wouldn't sleep with Jess if the option presented itself?
Even Ventimiglia hinted that he wasn't entirely sure who fathered Rory's baby.
"I don't know. … I didn't write the show, so I don't really know,'" he said in an interview with People. "I just know that [Sherman-Palladino] wanted me to look lovingly in the direction of Rory, played by the great Alexis Bledel, and I did. And fans are like, 'Oh my God, is it your baby?' I'm like, 'I don't know.' It could be — I don't think it is — but it could be."
Of course, Logan makes sense.
Granted, you can't exactly deny the undeniable. Rory and Logan were still clearly "a thing" and very much sleeping together throughout A Year in the Life. Plus, Logan makes perfect sense for a cyclical ending and from a "time marches on" perspective. Like her mother, Rory was lovingly (and rebelliously) in a relationship that neither family approved of with an ultra-rich, somewhat irresponsible guy. You even see a hint that Rory already knows Logan is the father when she talks to her own father about being a parent. (Or, more specifically, not really being a parent.) In that final scene with her dad, she's processing whether or not she'll even tell Logan she's pregnant and invite him along for that journey. After all, he's very much engaged to someone else.
So, yeah. One "insider" says Rory Gilmore was pregnant with a tiny Huntzberger. But as we all know, sometimes parents just aren't meant to be together. If you're Team Jess, stay Team Jess. If you're Team Paul, stay Team Paul. If you're Team Dean... weird, but OK. And, if you're team Wookiee: