Will Smith Opens Up About Son Jaden Asking To Be Emancipated At 15
by Erica Gerald Mason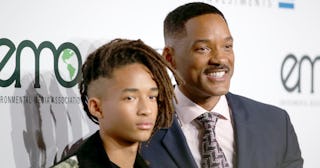 Phillip Faraone / Stringer/Getty
The actor said Jaden 'lost his trust in my leadership'
Will Smith opened up about the emotional experience of his son Jaden asking to become an emancipated minor at the age of 15.
In his new memoir, excerpted by People, Smith described how his "heart shattered" when he heard the news.
It came after the pair co-starred in the widely panned 2013 film After Earth, which Smith himself referred to as "an abysmal box office and critical failure." The film, for which Smith and Jaden developed a new post-modern accent with the help of a dialect coach, had the pair play onscreen father and son space travelers trapped on an unknown planet.
"And what was worse was that Jaden took the hit," Smith explains in his memoir. "Fans and the press were absolutely vicious; they said and printed things about Jaden that I refuse to repeat."
"Jaden had faithfully done everything that I'd instructed him to do, and I had coached him into the worst public mauling he'd ever experienced."
The public reaction caused Jaden's trust in his papa to falter.
"At 15 years old, when Jaden asked about being an emancipated minor, my heart shattered. He ultimately decided against it, but it sucks to feel like you've hurt your kids." Jaden ultimately decided not to pursue the legal process of emancipation.
One Twitter user commented on the backlash. "It's depressing how often the public, and even the media, will attack and blame children for bad films they were pressured to be in," the tweet reads. "And it does mostly seem to be boys who get this. In this case, the blowback seems to have destroyed a father son bond."
At the time, Smith brought up the prospect of Jaden's emancipation, then quickly dismissed it as a joke.
Smith's memoir contains another bombshell admission: that he once considered pushing his abusive father down the stairs."When I was nine years old, I watched my father punch my mother in the side of the head so hard that she collapsed. I saw her spit blood. That moment in that bedroom, probably more than any other moment in my life, has defined who I am," he writes.
"Within everything that I have done since then — the awards and accolades, the spotlights and attention, the characters and the laughs — there has been a subtle string of apologies to my mother for my inaction that day," the memoir continues. "For failing her in the moment. For failing to stand up to my father. For being a coward."
"What you have come to understand as "Will Smith," the alien-annihilating MC, the bigger-than-life movie star, is largely a construction – a carefully crafted and honed character – designed to protect myself. To hide myself from the world. To hide the coward."
Smith's parents later separated when he was a teen, then divorced in 2000. Years later, when the actor's father fell ill with cancer, a thought crossed his mind. "One night, as I delicately wheeled him from his bedroom toward the bathroom, a darkness arose within me," Smith writes. "The path between the two rooms goes past the top of the stairs. As a child I'd always told myself that I would one day avenge my mother. […]I paused at the top of the stairs. I could shove him down, and easily get away with it," Smith admits. "As the decades of pain, anger, and resentment coursed then receded, I shook my head and proceeded to wheel Daddio to the bathroom."
Smith's memoir, titled Will, hits shelves on Nov. 9.