8 Burning Questions Fans Need Answered Following The Yellowjackets Season 2 Finale
Shauna, Taissa, Natalie, Misty, and Van once again sunk their teeth in, leaving us desperate for more.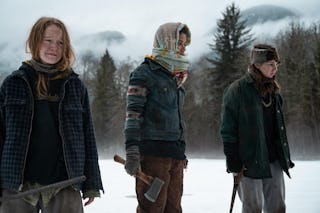 Kailey Schwerman/Showtime
Can I speak for everyone when I say I knew Season 2 of Yellowjackets would get dark, but I didn't anticipate just how dark? That said, I ate it up (sorry, too much?).
Since Season 1, Yellowjackets has brought out the Citizen Detective in viewers, looking for Easter eggs and theories everywhere. Season 2, which premiered March 24 and wrapped Thursday, May 25, amazed, shocked, and haunted the fans eager to see what would become of everyone's favorite ill-fated soccer-team-turned-suburbanites. Not only did it deliver, but it continued to raise the bar on the sense of impending doom that Season 3 will surely bring.
Viewers had a lot of questions after Season 1 finished, especially given the jaw-dropping final few minutes of the finale, with the echo of "Who the f*ck is Lottie Matthews?" still ringing in our ears as we waited for the Season 2 premiere. And while Season 2 did solve many of these mysteries, fans are now left with even more burning questions that will have to wait until Season 3 (which will face delays due to the Writer's Guild of America strike).
But the good news for all the Antler Queen stans out there is that creators have confirmed that the five-season plan for the show still seems to be on track.
The Wilderness Takes Its Toll
**Spoilers ahead**
This season we got some major moments to check off the grim bingo card that we knew was coming for our friends in the woods: the toll that extreme starvation has on the girls' minds and bodies (shoutout to Akilah's mouse), the new challenges brought on by the intense winter and the inevitability of the team's descent into cannibalism (RIP Jackie, who looked eerily like a rotisserie chicken).
We also had some big lingering plot questions answered — specifically related to the fate of Shauna's baby, Javi's whereabouts, and seemingly finally figuring out who the Antler Queen is. Along with a re-record of the amazing theme song by Alanis Morissette, we got some new adult survivors thrown into the mix: Lottie, played by Simone Kessell, and (yay!) Van, played by Lauren Ambrose.
The Present Takes A Dark Turn
In the present day, adult Lottie's Sunshine Honey self-health and wellness camp (cult?) seems more sinister than it ultimately reveals itself to be. But Lottie is struggling: Her visions have returned, and she feels a foreboding, evil presence that once again demands blood and sacrifice. The finale comes to a climax with the women ceremonially recreating the "hunt" ritual that is initially supposed to be fake, yet that the group at one point seems to be really into.
Seeing the adult survivors wear new handmade masks, holdup knives, and chase Shauna was a wild moment that people who identify as "one of those Yellowjackets obsessives," to use Misty's own words, were equally excited and horrified to see. This time the Queen of Hearts comes for Shauna. That ultimately gets interrupted, and Natalie (!!) ends up being sacrificed in a tragic Misty mix-up while protecting her from Lisa (who really goes off the rails, btw). My question: Where was the iconic gold Elsa Peretti Tiffany heart ritual necklace?
The Past Reveals When Things Went Feral
Back in the woods, the finale provides way more context into who ultimately wears the Antler Queen crown. But episode 8 planted the seeds for this big reveal. While Lottie is the "visionary" of the group, so to speak, the burden of leadership proved too heavy for her in the end.
In the penultimate episode, the wilderness "chooses" to protect Natalie after she draws the Queen of Hearts in a chilling scene with the best needle-drop moment of the season ("Bullet with Butterfly Wings" by The Smashing Pumpkins). This scene was the most emotionally difficult to watch and — as a Natalie stan — had me truly sad, but it also marked a genuinely dark and distinctive turning point in the series.
The girls hunt each other for the first time, and not just some rando either (sorry, Gen, it could have been you). Natalie is a core group member and, interestingly, the hunter herself. The girls transform into ravenous animals while chasing her. The wilderness sacrifices Javi to protect her — and Natalie figuratively gets crowned with Lottie passing her antlers. Of course, this makes Nat's death at the end of the finale even more shocking.
We Have Questions
So, yeah, some plot points closed this season. However, there are a lot more looming questions for our favorite '90s soccer players and their adult counterparts. The most pressing:
1. What will our girls in the woods do now that their cabin burned down?
While it wasn't a luxury accommodation and was somewhat haunted, it was essential to their survival. Next season will surely bring more context around their raw existence in the wilderness, which we all saw in the first scene of the pilot episode with Pit Girl (who I believe is Mari!).
2. Do things get even darker under Natalie's leadership?
Young Natalie as leader of the group will be a shift from Lottie; the two characters have been antagonists as both teens and adults. They've sparred over the question of the wilderness spirituality, Lottie's present-day cult group, and most intriguingly, Travis himself.
3. Does Coach Ben get a present-day character next season?
Coach Ben is currently solo, and it seems he may have burnt down the cabin — undeniably a big move. Will he hide away in that secret spot and survive against all odds?
4. Will Walter and Misty get together?
In the present, after helping to cover up Adam's murder (bye-bye, formerly goth Kevyn), Walter is hopefully on the path to a weird yet wonderful life with Misty. Fans were skeptical of his intentions at first, but dare we say? He and Misty seem like a match made in wackadoodle heaven.
5. Speaking of Adam... was he really just a random guy?
That would be a missed opportunity. I hope he's still revealed to be a Yellowjackets fanboy, and that is our entry into learning about the fan culture around this story.
6. Does Van stick around?
Let's hope adult Van can outsmart death one more time. Simone is great, but I'd love to see a rekindling of the beautiful Van and Taissa love story.
7. Will we finally get to see how the girls get rescued?
Another hope for Season 3 is that we get a bit more insight into what's going on at home back in New Jersey: the initial news of the crash, the rescue efforts, and the ways in which news of the tragedy spread throughout the community.
8. Will the show feel the same with such a significant character death?
My personal, frantic question at this point is this: What will the show be without adult Natalie? While the rest of the cast can undoubtedly keep it alive, she has been my standout favorite in the adult group.
Lottie's last words of the episode are: "We gave it what it wanted; it's pleased with us. You'll see." Chills. Can't wait to see.