Isn't It Iconic, Dontcha Think
Alanis Morissette Covering The 'Yellowjackets' Theme Song Is Like A '90s Time Machine
Can we get an Alanis cameo, please?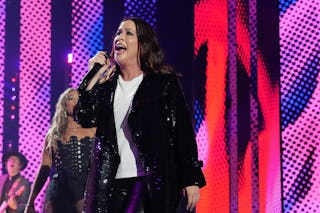 Kevin Mazur/Getty Images
There's nothing quite so perfect as curling up in the dark each week and devouring (too soon?) another episode of Yellowjackets Season 2. Despite the drama, thrill, and mystery of it all, those flashbacks to the '90s offer a level of nostalgia that can be hard to come by without a flannel and some baggy jeans. Amping up the rad vibes even more? This week's cover of the Yellowjackets theme song is by none other than the '90s alt-queen herself, Alanis Morissette.
That spooky and angry Yellowjackets theme from Craig Wedren and Anna Waronker, titled "No Return," is already an anthem. The angst alone is enough to trigger flashbacks of your own time spent in the '90s, so it's hard to believe it could get any better. And then, of course, Alanis Morissette covered it. The "You Oughta Know" singer has been known for her distinctive and emotive voice for roughly three decades. She became the female face of late '90s alternative music and has remained a respected musician in the years that followed.
Her take on the already likable Yellowjackets theme? Nothing short of perfection. She keeps the original backing vocals of Wedren and Waronker while adding her own dramatic flair. If you liked Yellowjackets'-backed cover of "I'm Just A Girl" by Florence Welch, then you're going to love Morissette's spin on "No Return."
"I see parallels between Yellowjackets and my perspective while songwriting: the sheer intensity, that going for the jugular with no fear around going for the profane," Morissette told Vulture. And damn, now we can't help but hope she makes a cameo on the series in the future.
This isn't the first or last time Yellowjackets has tapped into good music and familiar voices to dial up the '90s nostalgia. Yellowjackets' Season 1 soundtrack is loaded with '90s music, like:
"Today" — The Smashing Pumpkins
"Mountain Song" — Jane's Addiction
"Miss World" — Hole
"Glorybox" — Portishead
"Dreams" — The Cranberries
"Breakfast at Tiffany's" — Deep Blue Something
"This Is How We Do It" — Montell Jordan
"Kiss From A Rose" — Seal
So far on Yellowjackets Season 2 we've heard:
"#1 Crush" — Garbage
"Last Resort" — Papa Roach
"Cornflake Girl" — Tori Amos
"Climbing Up The Walls" — Radiohead
"Seether" — Veruca Salt
"Angst In My Pants" — Sparks
Of course, there was also the previously mentioned cover of No Doubt's "Just A Girl" by Florence and the Machine. That song was never creepy until Flo took it on, and the cover is now a favorite for many '90s fans.
The new recording of "No Return" from Alanis Morissette is featured on the fourth episode, "Old Wounds," on Season 2 of Yellowjackets, which airs on Sunday, April 16, at 9 p.m. Though, Showtime has already released a teaser for your ears' pleasure.