Get Ready For Zootopia 2, Y'all! The Sequel Is "In Development"
Time to join Judy Hopps and Nick Wilde on another action-packed adventure... unless you go to the DMV.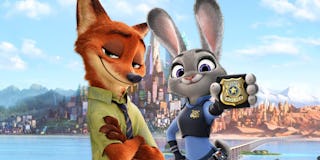 In 2016, Disney gifted fans with one of the greatest — and arguably one of the most underrated — animated films of the last decade: Zootopia. It may not seem like it gets as much fanfare as the biggies like Frozen or Toy Story, but trust, Zootopia's fans have been anxiously awaiting the update that Disney CEO Bog Iger delivered in February 2023. That announcement? Zootopia 2 is officially in development (frickin' finally).
Although a television spin-off series, Zootopia+, premiered on Disney+ in November 2022, those of us who watched the OG film with our kids roughly 1000 times have been hoping for an actual full-length feature follow-up. And at long last, there's confirmation it will be coming sometime in the near future.
What could possibly be in store for Zootopia 2? Let's take a look at the available information (so far) about the long-awaited sequel.
What will Zootopia 2 be about?
In case you forgot, Zootopia followed an unlikely pair of friends-turned-work-partners named Judy Hopps, a rabbit police officer fresh out of the academy, and Nick Wilde, a red fox con artist. They live in the busy metropolis of Zootopia, where their paths cross and then begin to intertwine as they — reluctantly, at first — team up to uncover a criminal conspiracy involving the disappearance of predators.
At this point, the plot of Zootopia 2 is really anyone's guess. Zootopia ended by seeing the arrest of Bellwether and a successful, pretty friendly pairing of Nick and Judy. Will that friendship last? It's Disney. Of course it will! While there's very little to go on so far, it's almost certain to see our favorite fox and rabbit working together yet again to keep Zootopia safe.
Who's returning for Zootopia 2?
Again, it's all speculation so far. However, it's hard to imagine Zootopia without Judy and Nick. Moreover, the amazing actors who voiced Nick (Jason Bateman) and Judy (Ginnifer Goodwin) aren't fantastically busy these days, so it seems likely that we'll see the return of both to voice the lead roles.
Other big names from the first film who could return include:
Idris Elba (Chief Bogo)
Jenny Slate (Bellwether)
Nate Torrence (Clawhauser)
Bonnie Hunt (Bonnie Hopps)
Don Lake (Stu Hopps)
Tommy Chong (Yax)
J.K. Simmons (Mayor Lionheart)
Octavia Spencer (Mrs. Otterton)
Alan Tudyk (Duke Weaselton)
Shakira (Gazelle)
Granted, Octavia Spencer and Idris Elba have only grown in popularity and stardom since the release of Zootopia, so it seems difficult to believe they'd find time to do voice acting. However, they're both solid humans who enjoy making their fans happy. In other words, it's possible!
When does Zootopia 2 release?
No matter how excited you are for Zootopia 2, it's time to let go of that breath you're holding. Animations take time, even with all of the new technology Disney/Pixar has at its fingertips. While no release date has been given yet, it's safe to assume you won't see a return to Zootopia this year.
Pixar currently has three "untitled" entries on its slate: June 2025, March 2026, and June 2026. Of the three sequels Iger announced, Zootopia is the one with the oldest release date, so it's likely to be the first release slated. If that's the case, June 2025 is most likely Zootopia 2's release date. In other words, you still have two years to wait.
Anyone else more pumped about Zootopia 2 than any of Iger's other sequel announcements?