Disney Announces Return To Arendelle: Frozen 3 Is Officially In The Works
Do you wanna build a(nother) sequel?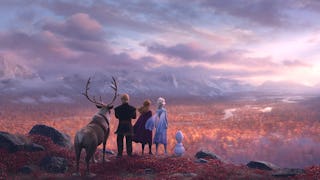 Disney
As has become abundantly clear since the world first met Anna and Elsa of Arendelle in 2013, no one is ready to "let it go" when it comes to the Frozen franchise (at least not yet). And for now, fans don't have to — during a Q1 earnings call in February 2023, Disney CEO Bob Iger confirmed Frozen 3 is officially in the works. Yep, you and your kiddos get to spend even more time with Elsa, Anna, and everyone's favorite snowman, Olaf.
Admittedly, speculating about what the second sequel will be about is pretty much venturing "into the unknown," in the immortal words of Elsa (again). Most — although not all — of Frozen's cast have remained mum on the news since it broke. So, what can we expect from Frozen 3? Let's take a look at what we know so far.
When will Frozen 3 be released?
Your guess is as good as ours. While it's been easy to speculate on release dates for Toy Story 5 and Zootopia 2 thanks to their ties to Pixar, fans aren't so lucky with Frozen 3.
Unfortunately, you could be waiting for quite a while. Let's not forget that it took *six years* for Frozen to get its first sequel. If history repeats itself, Frozen fans may not see the release of Frozen 3 until 2025. If that seems far away, keep reminding yourself that it's already 2023. (Also: You're not the only one who feels stuck in 2020 still.)
A November, December, or January release seems on theme, too. After all, no one wants to visit a snowy wonderland in July. Frozen films always feel like holiday movies, right?
Who's returning for Frozen 3?
Neither Frozen leading lady has yet spoken out about the major Frozen 3 news. No worries, though! Olaf himself, Josh Gad, has already confirmed his return. He recently tweeted, "Excited to head back... Into The Unknown. #Frozen3" And if you didn't squeal with excitement, you're clearly dead inside.
Who else will return? Disney isn't exactly known for making sequels unless they can confirm the return of the original cast. So, all bets are good that you'll hear the likes of Kristen Bell, Idina Menzel, and more.
What will Frozen 3 be about?
Married life. Continuing to learn about their past. Life as queen. Transitioning from a monarchy to a democracy. All of those are plausible. However, there's only one question we still need the answer to: WhoTF is Samantha, and will we ever meet her?
While no actual plot details have been released yet, true Frozen fans ought to be crossing their fingers for a love story involving their favorite snowman... and a snowperson named Sam.
Although if fans are going to get another love story in the next sequel, they've made it pretty clear who they need to see find their happily ever after: Elsa.
Since the first film's release, Elsa has become an LGBTQ+ icon, but directors Jennifer Lee and Chris Buck have thus far chosen to focus on her journey of solo self-discovery.
However, with the news of Frozen 3 confirmed, fans have already begun campaigning for a romantic connection between Elsa and her Northuldran forest tribe friend, Honeymaren (Rachel Matthews).
There are already so many Frozen shorts on Disney+, you're not lacking Frozen content. Since it seems like the wait could be a long one, that's probably for the best. Cue up that Arendelle fireplace and get cozy. Frozen 3 is coming — but it's gonna be a hot minute.