Fab 5 Prayer Candles: Because We Need All The Help We Can Get
by Julie Scagell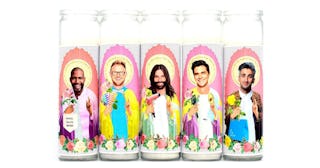 TheFive15/Etsy
It's about time we pay homage to the Fab Five
As 2019 comes to an end, we could all use some time to unwind, relax, and mostly pretend the shenanigans of the past year didn't actually happen. What better way to do so than by praying — and I think I speak for everyone when I say, even if you aren't religious — to the Fab Five?
I don't know about you but since Queer Eye was brought back (even bigger and more fabulous than ever before) on Netflix, the show has been the binge-worthy obsession that has endeared millions of new fans to the Fab Five — Antoni Porowski, food and wine expert; Tan France, fashion expert; Karamo Brown, culture expert; Bobby Berk, design expert; and Jonathan Van Ness, grooming expert. They have brought so much to our lives and it's the least we can do to bow down to their greatness via a prayer candle.
There are several shop owners on Etsy selling them, both individually and as a set, so you can turn off all the lights, fire one up, and toast to the boys (and everyone's fave makeover Tom) with an ice-cold margarita.
Take Saturday Morning Glow's Saint Jonathan Van Ness Candle. Order now and you can worship all eight inches of him by Christmas. He burns for seven hours, ladies and gentlemen, so keep that in mind when making your weekend plans.
Show owner Ain't Saint Co also offers a Tan candle with the quote: "IT'S YOUR JOURNEY DO IT THE WAY YOU WANNA DO IT," and as always, we appreciate any and all advice this man will give us. Bow down to his glory but also know he's probably judging your outfit.
Lit Wick Shop is selling everyone's favorite Fab Five member to look at — Karamo. According to the shop owner, this candle will "Spice up your mantle with this super hot Karamo Brown prayer candle. He's hot, but he will also be sure to only bring you good vibes hunny. We appreciate you, Karamo.
They also sell an Antoni version because he, and his guacamole, deserve some love, too.
The Fab Five have been bringing goodness and light to everyone's lives they've touched for four seasons now and the fifth season will be released sometime in 2020. They not only help physically make people (and their homes) over but they often hit what's bringing them down emotionally, leaving them ready to tackle whatever life brings them. They do all this while letting viewers in on their own demons and opening themselves up to growing along the way.
If you can't seem to decide which Queer Eye member to get — why not get them all? Shop owner The Five 15 is selling the set so you can light up an entire room. "I had to make these candles because Queer Eye and the Fab5 are exactly what the world needs right now. They are literally therapy," their page said. Amen to that.
Whatever you decide, these prayer candles will add just the right amount of zhuzh to any room in your home. Time to get shopping.