Family Recreates Disney World At Home Amid Park's Indefinite Closure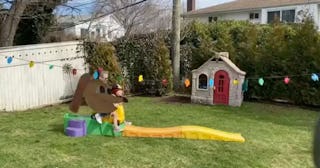 Jessica Gubenko
After being forced to cancel their vacation to Disney World due to the coronavirus pandemic, one family decided to recreate the magic of Disney at their home
In the version of life where COVID-19 doesn't exist, many families would currently be getting ready for spring break vacations to Disneyland or Disney World, two hotspots during this time of the year. However, due to the health pandemic and social distancing recommendations set forth by international health organizations both parks are closed indefinitely, which means there are a lot of children out there who are totally bummed out. However, one family who was forced to cancel their trip to the Magic Kingdom found another way to celebrate — they recreated the Disney park at home.
RELATED: Best Disney Toys To Keep Kids Living Their Most Magical Lives Right At Home
Jessica and Brett Gubenko had booked a Disney World vacation months ago for their daughters, Sadie, 8, and Summer, 4, who had been talking about it nonstop. When she realized the trip wasn't going to happen due to the coronavirus pandemic, she decided to ease the blow by coming up with a creative alternative.
"My girls had their bags packed for weeks so I had no doubt they were going to be devastated," she told Good Morning America. "I had to turn it around somehow."
So, she and her husband gave their girls a Disney day at home. "They're both very artistic and creative so we thought they'd have fun with it," she continued.
"Today was supposed to be our first day in the parks with our entire family so we surprised our girls with a Disney vacation at home!" Jessica wrote on Facebook, posting a video of their special day. "We were most bummed about not being able to meet our family down there so my niece joined us for our princess parade via FaceTime."
First, the Long Island family recreated some of their favorite rides in the backyard of their home — including a "Splash Mountain" slide (who needs a water slide when you have a bucket of water?) and "Magic Carpet" swing set. Their grandmother helped them create a slinky dog cut out, which served as their "Toy Story" roller coaster. Then, they headed indoors for "Space Mountain" and "It's a Small World" in their living room.
As for food, they noshed on Disney themed delicacies, breakfast with Chef Mickey, and a princess dinner. Jessica even brought her old Belle from Beauty and the Beast dress out of the closet to host the swanky soiree.
But no Disney day would be complete without a Magic Kingdom fireworks display. They transformed their living room into Main Street, USA, and enjoyed the show.
In early March, both Disney World and Disneyland announced they were closing their parks due to the health epidemic and the company recently issued an update that they would remain closed indefinitely. While the Gubenko family hopes to reschedule their trip to the Disney World Resort after the coronavirus pandemic, they are happy to be able to share their experience with the wold. "It's bringing smiles to so many families," Jessica exclaimed to Scary Mommy.
This article was originally published on