Tons Of Museums Offer Virtual Tours In Case You Need A Quarantine Activity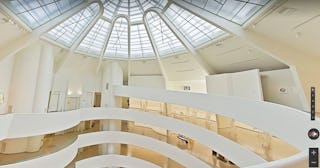 Google
Going stir-crazy in your coronavirus self-isolation? Now you can tour iconic museums worldwide
As we all adjust to our new reality of living through the coronavirus pandemic, uncertainty abounds. But one thing is crystal clear: We're gonna need ways to keep our minds busy as we practice social distancing and endure precautionary quarantines. So, let's take a minute to rejoice in unexpected gifts — as first reported by Fast Company, over 2500 museums and galleries around the globe have teamed up with Google Arts & Culture to offer virtual tours and online exhibits that can be enjoyed from the comfort of your own home.
Or, you know, while you're stuck within the confines of your domicile during this unprecedented time in American history. Thankfully, we'll all have plenty of other history to focus our thoughts on now. After all, there's only so much Netflix and Hulu you can binge-watch before you start to feel like the walls are closing in on you. Travel & Leisure is out here giving us excellent ideas for spending our quarantine time, y'all.
And make no mistake; these virtual tours take you right inside some of the world's most iconic institutions. Been putting off that trip to Amsterdam to explore the Van Gogh Museum? Here's your chance to take it all in. Dreaming of a trip to Paris that includes taking in the Louvre? You can do that, too. You can find the full list of participating galleries here, but keep reading for 10 stand-outs.
The British Museum (London, England)
The perfect starter if you don't consider yourself super art-y, London's British Museum is chock full of fascinating ancient artifacts like the Rosetta Stone and Japanese samurai armor. Click here to tour.
Guggenheim Museum (New York City, New York, US)
Peer into this world-famous Frank Lloyd Wright-designed building to marvel over its breathtaking corkscrew design and check out its impressive collection of Impressionist, Post-Impressionist, and Modern and Contemporary Art. Click here to tour.
The Louvre (Paris, France)
The world's largest museum, the iconic Louvre sits along the banks of the Seine River in Paris. Skip the crowds at this major tourist attraction by taking the virtual tour, which allows you to check out Galerie d'Apollon, Egyptian Antiquities, and more. Click here to tour.
National Museum of Modern and Contemporary Art (Seoul, South Korea)
Head to the heart of Seoul to take a tour of MMCA, one of Korea's only museums dedicated to modern and contemporary art. Spread over four buildings and across six floors, this space will introduce you to works of art from Korea and all over the globe. Click here to tour.
Pergamon Museum (Berlin, Germany)
You can't get much cooler than exploring the ruins of ancient monumental buildings from all over the globe — excavated and on display at one of Germany's largest museums. See the Pergamon Altar, the Ishtar Gate of Babylon, and more. Click here to tour.
Van Gogh Museum (Amsterdam, Netherlands)
Can you guess whose famous works live here? That's right — just as the name implies, this space holds the largest collection of Vincent Van Gogh's work in the world. Just how many is that? A whopping 200+ paintings, 500 drawings, and 750 personal letters. You won't be able to view them all in the virtual tour, but you'll see many. Click here to tour.
The J. Paul Getty Museum (Los Angeles, California, US)
In this California museum, you can feast your eyes on European artwork dating back as far as the 8th century through the 21st century. This includes European paintings, drawings, sculpture, illuminated manuscripts, decorative arts, and European, Asian, and American photographs. Bonus? It's all set against a backdrop of Los Angeles. Click here to tour.
National Gallery of Art (Washington D.C.)
This art museum located in our nation's capital features two virtual exhibits: American fashion from 1740 to 1895, and a collection of works from Dutch Baroque painter Johannes Vermeer. Click here to tour.
Uffizi Gallery (Florence, Italy)
The legacy of the art collection of Florence's ruling house of Medici is housed in this u-shaped building. What will you find as you wander its elegant halls? Works by Renaissance Old Masters like Michelangelo, Leonardo, Botticelli, and Titian. Click here to tour.
MASP (São Paulo, Brazil)
This isn't just a museum; it's an architectural landmark. Designed by Lina Bo Bardi, it is Brazil's first modern museum, featuring a floating design that is mirrored in the way its art is displayed — suspended in Perspex frames that makes it appear as though the masterpieces are hovering. Click here to tour.
Musée d'Orsay (Paris, France)
The Louvre tends to get all the love, but you certainly shouldn't overlook this gem. Once a Beaux-Arts railway station, it's now one of the largest museums in Europe where you can admire masterpieces by Monet, Cézanne, Gauguin, and more. Click here to tour.
H/T: Travel & Leisure
This article was originally published on