Fanny Packs Are Back In And We're Here For It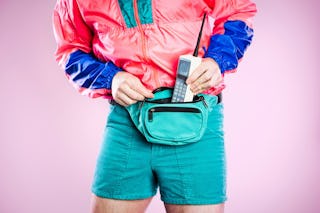 Image via RyanJLane / iStock
Fashion and function collide in summer 2017's hottest accessory: the fanny pack
Remember how great the '90s were? Saturday mornings were for sugary cereal and cartoons. Birthday parties were held at the roller skating rink. Donald Trump was hardly a blip on the celebrity radar. What good, innocent times those were.
Some things about the '90s are lost forever. Others can still make a comeback, like the staple of bad '90s dad fashion, the fanny pack.
Musical festival-goers have been on top of the convenience of fanny packs for a few years now, but since they started making appearances on celebs like Kendall Jenner, they've officially gone mainstream.
https://www.instagram.com/p/BVOVqesFci0/?tagged=fannypack
As a girl who likes to keep a snack handy at all times, yet have a free range of motion unimpeded by a purse swinging around off my shoulder, I am all about this trend. So is Instagram, as it turns out.
https://www.instagram.com/p/BVP9YaShvR3/?tagged=fannypack
There are all kinds of options here, too. Vintage fanny packs are obviously widely available, but for those with more ~fancy~ taste, there are designer versions hitting the market, too, from this $200 Fenty x Puma version:
To this Burberry clutch that can be attached to a genuine Italian leather waist belt, ringing in at just under $3,000:
The fanny pack, which is now being marketed as a butt bag, bum bag, belt bag or waist satchel, depending on the fanciness of the retailer, was en vogue around 25 years ago. It descended into dork territory for decades, but, like so many fashion trends tend to do, has come solidly back in. It shouldn't be a surprise, considering mom jeans and crop tops are also back in our good fashion graces. Now can we please bring back brightly colored windbreakers? #AskingForAFriend
This article was originally published on