20 Of The Fastest Rising Baby Names Right Now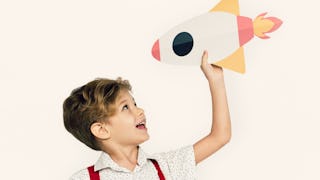 Rawpixel/Getty Images
Baby name trends are a fascinating phenomenon.
It takes a while for a naming trend to really take hold, and that can mean years — or even decades — of slowly rising up the popularity charts before a name reaches the top.
The Social Security Administration has recently released its list of the most popular baby names from last year, a compilation of data based on mandatory social security card applications. So now, the public gets a clear snapshot of what everyone named all the babies born in 2018.
But while everyone is focused on the most popular baby names, the ones who have made it to the tip-top (currently Liam, Noah, and William for boys and Emma, Olivia, and Ava for girls), people may not realize there are some names at the bottom of the chart making considerable gains, those "dark horse" names leaping up the ranks with surprising speed.
Many of these are influenced by pop culture, as we can plainly see. Archie isn't the only royal name making headlines lately, as Meghan (like Archie's mom, the Duchess of Sussex) was the absolute fastest-rising girl's name, hurtling up the chart by just over seven hundred places. And is it any wonder that the #2 fastest rising name for boys is Saint, which just so happens to be the name of Kim Kardashian and Kanye West's son?
In the girls' camp, all the fastest-rising names except Oaklynn, Yara, and Ensley are brand new to the top 1,000. For boys, all the names are newcomers to the list, with the single exception of Kairo.
GIRLS
The queen of the fast burners, this one rose from spot #1,404 in 2017 to #703 in 2018, taking the throne with a jump of 701 places.
2. Dior (+566)
This fashionable moniker climbed from 2017's rank of #1,358 to its current position of #703.
A modern mashup of Ada and Lee, this one jumped from #1,225 in 2017 to #855 in 2018.
First a surname, then a boy's name, now a hot crossover — with a leap from #1,043 to #679.
Rising from #888 to #364, this one is also a fast burner, but doesn't count the popularity of its one-N "sister name" Oaklyn, which also jumped an admirable 184 spots.
Move over, Paisley — Haisley is gaining on you, with a considerable climb from #1,108 to #765. (Look out for the Haisleighs, which will no doubt follow suit.)
Is it pronounced like Kylie, Keeley, or Kailey? Who knows! But it's making big gains, up from #1,146 to #826 on the list.
A supernova is a star that suddenly increases greatly in brightness. So this name's jump from #1,127 to #981 makes it a super Novah.
9. Yara (+314)
Ah, those "Game of Thrones" names that everybody loves! That likely explains Yara's ascent from #986 to #672.
With a boost of nearly 300 places, Ensley went from #967 in 2017 to its current position at #673.
BOYS
The word "genesis" means "beginning," and this Genesis is beginning its stint in the top 1000 with a huge jump from #1,592 to #984.
Holy moly! This one climbed from #1,297 in 2017 to its current position of #859.
This one's rising faster than bread dough (see what we did there?), from #1,143 to #712.
A combined trend of place names and K-names brings us Kairo, jumping from spot #803 to #482.
Could this have to do with the name chosen by "Teen Mom" alum Chelsea Houska for her son? Or maybe IBM's supercomputer technology with the same name? Either way, Watson rose from #1,020 to #711.
If Dior's not your bag, how about another French fashion house — Kenzo? It's up from #1,176 to #873.
If you add an X and a Y to a spelling, it automatically makes the name cooler … or so say the parents who made Jaxtyn jump from #1,067 to #771.
8. Kylo (+287)
The national obsession with the Star Wars franchise is a big part of this name's rise from #1,152 to #865, but our obsession with K-names doesn't hurt either.
This name comes from a Shona word meaning "rejoice," and its leap from #1,173 to #910 — and entry into the top 1000 — is reason to celebrate.
Why spell it Carson when you could spell it Karsyn, which jumped from #1,199 to its current spot at #940?
Right now, it's hard to say whether these names are just flash-in-the-pan trends, or if they'll continue their hot trajectory toward the top of the charts. But at the rate they're going, they're the ones to keep an eye on, at the very least.
Need baby naming help and inspiration? Find it in Scary Mommy's comprehensive baby name database!
This article was originally published on