Don't Feel Sorry For Babies With Feeding Tubes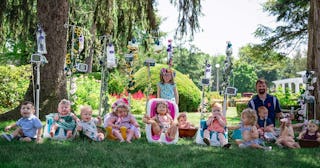 Photo courtesy of Chelsi Daley/3:23 Photography
Fed is Best. Breast is Best. To breastfeed or to formula-feed? These are the most common mantras about how one ought to provide nutrition for their new baby. But it seems we are leaving out an entire source of feeding which provides sustenance for thousands of children today — tube feeding
Inspired by a hope and need to normalize and remove the stigma surrounding children with feeding tubes, Chelsi Daley, owner of 3:23 Photography and Indiana mother to a "tubie" baby herself, created a photo shoot exclusive to 12 Indiana children requiring feeding tubes… and the results are sure to make you wonder if someone is cutting onions.
In a recent 2017 study, it's estimated that 189,036 children make up 40 percent of people in the overall feeding tube population, with two different types of feeding tubes providing nutrition. For some, it's a nasogastric (NG) tube which passes through the nose, down the esophagus and into the stomach. And for others, it's a gastronomy (G) tube which is ported directly into the stomach from the abdomen to provide nutrients and calories.
As for Daley's now-6-month-old son Grey, he's experienced both forms of feeding tubes. After he began aspirating breastmilk and formula so intensely as a newborn that it was visually seen in his sinuses on scans, Grey's medical team opted for a feeding tube. After some trial and error with an NG-tube, it was discovered that a G-tube would be the better fit for Grey.
"I know that sometimes it looks scary, and the thought of a hole in a tiny [baby's] stomach can be terrifying, [but] this is their normal," Daley says. "I'm not scared of some little [tube]," Daley tells Scary Mommy. "It's nothing now. It's our life, our normal. A feeding tube is part of Grey."
But that doesn't mean this new normal didn't come without adaptation. One of the photos in this shoot features Daley and Grey with a chalkboard reading: "And I thought I was going to breastfeed…"
In today's culture, there is such a heavy pressure on moms to breastfeed. But for some, like these moms, breastfeeding and/or bottle-feeding wasn't in their cards. It's something they've had to learn let go of because it wasn't what was in the best interest of their child.
"Feeding tube mommas, we may look at the bottle aisle in defeat. We may envy just a single bottle in your diaper bag, your breastfeeding photo shoot," Daley says. "That's how this shoot came to life. I wanted those mommas and their babies to have something, too."
Indiana mother Hailey Tompkins survived these raw and heartbreaking emotions when her now-one-year-old daughter Clarke was given a gastroschisis diagnosis before birth — a birth defect in which the intestines extend beyond the abdomen wall through a various-sized hole near the belly button. In what Tompkins describes as a "severe case" of gastroschisis, Clarke was born with 90% of her intestines on the outside of her body and breastfeeding wasn't a possibility.
"I was even a champ at lactating," Tompkins tells Scary Mommy.
Clarke, at just one year old, has already undergone six surgeries and spent the first six months of her life in the NICU with several hospital stays on and off in the months since then. She still requires at least two more surgeries, but Tompkins describes her daughter as a "true fighter." And after nearly dying twice, Clarke's will for life continues to help her "beat all the odds."
"Clarke is lucky just to be alive," she says. "Something as minor as a feeding tube is really a blessing to what could have been."
Although it seems society is gaining an openness in sympathizing and recognizing what it's like to parent children with a variety of special needs, there's still much to be done if we are to tear the veil which segregates breastfed/bottle-fed babies and parents from those whom require feeding tubes for their nutrition.
To the vast majority of outsiders looking in, it's only natural, some might say merely human nature, to sincerely empathize with those little souls requiring a feeding tube so early on in life. But to them, this is their normal, and it's what keeps them growing. In another photo captured by Daley, featuring the sweetest little girl, the chalkboard reads: "Don't be sorry. This is the only way my daughter has ever thrived."
"Tube fed babies in so many ways are just like yours. Don't be afraid of them. That's all we want… we just want to see your child approach ours with love. Sometimes we want to hear the normal questions about them and while we love to answer the medical side of things, we'd love to just hear someone ask how old they are," Daley says.
Tube fed babies are more than just their unique diet and way to eat, and Daley is hoping to promote that concept beyond those already in the "tubie" community today.
"This is just a little piece of life saving plastic in [my son's] stomach, and he's shown me to be so grateful for it," she says.
Don't forget: "Tubes are like a fruit bowl, all shapes and sizes, but still just as sweet."
This article was originally published on