Fighting Those Under-Eye Bags (With Something Other Than Sunglasses)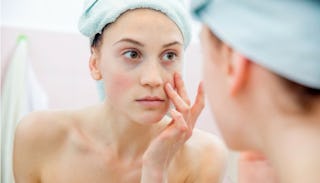 Casarsa / iStock
No matter how overcast the sky is, sunglasses are my best friend first thing in the morning. Doughnut run on a Sunday morning so I can remind my kids that sometimes I am fun? Shades. Taking the dog for a walk while all the old people in my neighborhood peek out their windows to make sure I clean up after my pooch? Shades. School drop-off after a night spent aiding and abetting procrastination by helping finish a last-minute science project that was assigned weeks ago? Shades and a hat. I'm sleep-deprived, dehydrated, and some level of angry all the time.
If you're like me and wake up wishing you were hardcore enough to inject caffeine directly into your eyeballs, there's hope. We could all use an extra hour or two of sleep every night along with some IV fluids. While nothing will replace rest and hydration, there are a few little things you can add into your beauty regimen to keep from looking like you pry your crusty eyelids apart with a tiny crowbar every morning.
As you get older, the delicate skin around your eyes gets dryer, making it prone to wrinkles. This eye cream adds moisture to soften and plump up your eye area. Using it in the morning before you apply makeup will help your under-eye concealer go on smoother and reduce creasing.
Green tea and vitamin C both have antioxidant properties, which is great for skin health and fighting signs of aging. Vitamin C itself is also vital in collagen production. These under-eye patches are loaded with both. As an added bonus, keeping them in the fridge and applying them in the morning while you're getting ready can help reduce swelling and puffiness.
Even when you're not planning on wearing makeup, you can dot a little of this cream under your eyes and let its light-reflecting pigments go to work brightening them up. I personally like showing up to school drop-off like I should under no circumstances be screwed with. But this is a great alternative if you don't mind people talking to you and putting one more moment between you and your next cup of coffee.
This eye cream is a jack of all trades, remedying dark circles, puffiness, fine lines, and wrinkles. Along with all that, it can be used all over the face and neck and even on the backs of hands to reduce signs of aging. A very small bit goes a long way, which is nice when you start to consider bathing in the stuff.
This is my favorite under-eye concealer. It brightens up the area, conceals dark circles, and goes on light without the heaviness of other concealers. Plus, it is its own applicator, which means one less makeup brush for my kids to steal and ruin for their next art project.
Short of taping your eyelids to your forehead to obtain that bright-eyed and bushy-tailed look, giving your eyes a little extra TLC can work wonders. Also, maybe try giving your kid a healthy serving of tough beans next time they tell you their diorama of Eastern Europe is due in the morning and they need you to start shaping Russia out of homemade playdough.
Editors may receive samples and/or a share from purchases made via links on this page.
This article was originally published on