Finding The Balance Between Being A 'Yes Mom' And Feeling Like A Doormat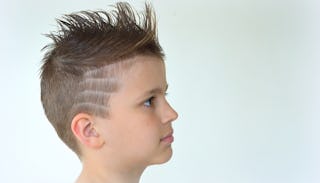 Shutterstock
I like my kids to be their true selves in every area of their lives, as long as it is appropriate and doesn't hurt others or make them look like a dipshit. I love saying "Yes!" to my children's ideas. I love encouraging their individuality. But I have my limits. I am constantly telling them this: "I want to encourage you, but there has to be rules because I'm still your parent. I have limits. Don't be an asshole. Help me, help you."
Isn't this what we all want for our kids? To be comfortable enough to show the world who they truly are? I tend to say yes more than I say no, and I am proud to admit that, but you bet your ass I will overrule some of their decisions and harebrained ideas.
That's what parents are for isn't it? To guide their offspring in the right direction, ruin their fun, steal their joy, stop them from acting or looking like a huge dookie-maker as much as we can without dulling their sparkle, or making them look like they are not on fleek, or whatever the hell kids say these days. Swag…maybe the latest word is swag. I don't fucking know, but I do know this:
If my son wants to grow out his hair and rock a man bun, or my daughter wants an undercut and to dye her hair a rainbow of fruit flavors, great. This mom is game for that. Pass me the hair dye or the razor, because I kind of want to get in on it. In fact, a lightning bolt shaved on the side of their head would be swag (on fleek?), but the second they mention shaving something remotely inappropriate into their lovely locks, the fun will be over and they can stick to their mom-approved 'do.
I usually don't censor their music. I know they listen to what is popular, just as I did ("Pour Some Sugar On Me," "Like a Virgin", "I Want Your Sex," I could go on). And I was their age when I would swing my hips in front of a mirror, wearing leg warmers and a high pony. I was fabulous. I want them to feel fabulous too. However, the moment I hear some dude blaring through my son's speaker system describing women in unsavory and inappropriate ways, I will take that speaker system and turn that mutha out, '90s style. For like, ever. That is unacceptable to me, and because I want it to be unacceptable to them, I don't condone it in our household.
I encourage my kids to put what they want on their body, express themselves through their clothing. Don't wear a coat if it is 2 degrees — I get it, you want people to see your amazing fit. But if my daughter thinks for one second it is ever okay to wear a T-shirt that says "Ask About My Hooters," I will cut it off her. I don't care if she is 26.
I want them to be able to come to me and tell me when they feel I am being unfair. I will welcome them with compassion and understanding if they can talk in a respectful way, even if they are extremely angry. We don't repress our feeling in this house. But the second they say something like, " You suck, my life sucks, and this house sucks," it will be time to show them a situation that really sucks. Perhaps scrubbing the piss splashes in the bathroom with a toothbrush will do the trick. I am open to listening when they speak to me with respect, but I'm not going to let them talk to me like I'm beneath them.
So, this is to say that you can be a "Yes Mom" while still setting some boundaries for your kids. The whole "children should be seen and not heard" is so outdated and damaging. We want our kids to feel happy and empowered to make a lot of their own decisions, yet I sometimes feel like a doormat because of it. And when I do feel this way, it is my own fault. Finding the balance between letting our kids grow and learn on their own, and being an encouraging parent while making sure they don't get carried away, can be extremely tough. Because let's face it: They are kids, they are still learning, and they are going to get carried away.
But it doesn't deter me from saying yes more often than not, or trying to find a middle ground so that I can say yes comfortably, and I can honestly say I only fuck this up some of the time. For the most part, it works for my family — thank god — because saying yes is just so much more fun. Now pass me the scissors and turn up the music.