How To Find A Babysitter That You Can Trust & Count On
Time to regain some of your pre-baby independence!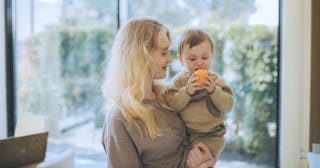 Pexels
At some point in our parenting lives, we all need to find a babysitter. And, trust, this is no easy task. This person must be gentle, yet firm. They must be loving and warm. They must be trustworthy and reliable, but also fun enough to make your kids feel like they aren't under house arrest. They must do all of this so that you can steal away every so often — whether it's for a long-overdue date night, or a trip to the grocery store that doesn't involve hearing "can we get this?" approximately 947 times. A good babysitter is basically the holy grail of raising tiny humans.
Since you'll be trusting them with the things you hold most dear in this world, you've gotta make sure they're the right person for the (invaluable) job. With all that said, finding a babysitter you trust can prove easier said than done. It can be done, though, and we're here to offer a few tried-and-true places to start.
Ask Around
If you're anything like us, you put a lot of stock in real-life feedback. If you're buying something from Target online, you're going to scroll through the reviews first. When your kid needs a new baseball glove, you make a beeline for their teammates' moms for recommendations. Adopting this same practice when searching for a babysitter could very well land you with a dream sitter. Sure, some people will be hesitant to give up their sitter's name for fear you might eat into their nights out. Hit up your Facebook mom group and ask for some leads, you'll probably be pleasantly surprised by how many people willingly offer the name of a trusted sitter in their life. You might even make connections with nearby moms who might want to tag team a sitter for a night out for the both of you and a playdate of sorts for the kiddos. You never know who you'll meet.
Go With What You Know
If no one in your social circle volunteers the name of a potential babysitter, take a closer look at your family's network. Do you go to a house of worship? See if the message board or newsletter mentions any members offering services, or ask someone you trust in the congregation if they know of anyone (maybe the same person who sits with kids during services?). Does your child attend any extracurriculars, such as gymnastics or a sport? Often, youth instructors moonlight as babysitters. An obvious perk in that scenario is that your child will have a familiar face around. If your child is on the younger side and attends daycare, see if one of the teachers is interested in babysitting. Beloved daycare teachers often do so and it's easier for younger kids who are still in the stranger danger phase to adapt to someone they know versus a possible meltdown with a brand new babysitter they've never met. You never want to cut your night short because the new babysitter just can't seem to calm down your alarmed sweet little one.
Try an App
Although many of these services require a small or ongoing financial commitment, online sitter-matching sites make life much easier. For starters, these services fully vet the sitters that are showcased. They also give you a clear picture upfront of the sitter's rate and availability. And some even offer "virtual babysitting," where the sitter spends time with your kid through the app by helping with homework, playing games with them, and otherwise keeping them occupied. Online services or apps you can look into include Care.com, Sittercity, Sitter, Sitting Around, Bambino, Seeking Sitters, Bubble, and Zum.
Reach Out to a Local Agency
You may find that your area has an established caregiver, babysitter, or nanny agency. Often, these types of businesses offer a wide pool of qualified candidates that are thoroughly screened, CPR-certified, and vouched for by the service. An added benefit here is that reputable agencies will personally help match you with the right sitter for your family, and they'll offer follow-up support anytime you need it.
How old should a babysitter be?
This one is up to you and depends on how old your child is. For a younger child, a more experienced babysitter will be better. You want to hire someone who will be able to detect and not panic in an emergency situation and call 9-1-1 if necessary. That said, the Red Cross offers babysitting courses to kids between the ages of 11 and 15, which is an age when most tweens and teens start babysitting. The courses teach basic child care, basic first aid, and age appropriate activities, among others essential skills.
How much do you pay a babysitter?
This is one of those questions that is specific to not only each caregiver based on their experience, but also the going rate and general cost of living in your specific area. Some prices can even fluctuate between local counties or neighborhoods. Ask your group of parent friends what they pay a babysitter and remember that the price for a nanny might be different, even higher, than that of an occasional sitter.
If you don't have any parent friends, you'll get to know the general price range as you start scoping out potential sitters. If four out of five say $15 an hour, then that might be the going rate in your area. This might also be a fantastic query to post on a mom group you belong to, you'll also find out other tips such as if sitters expect you to pay for dinner if it's an evening shift, a ride home if they end later than most public transportation runs regularly, and any other incidentals that have nothing to do with expenses related to your children. You may have banked on that $15 an hour but with all other expenses pooled together might find one is more expensive than another.
Making It Official
Of course, once you think you've found a babysitter that aligns with your family's needs, you'll want to make sure it really is a good match. For starters, ask your kids what they think about the new sitter. Ask them what they do with the sitter while you're out. What they say can give your priceless insight into the caregiver you've invited into your home.
You can form a foundation of mutual trust and respect with your new sitter by always being upfront with them. Set guidelines. Make sure they know what you expect from them, and ask them what they expect from you in return. Go over any safety concerns. Don't overload them with tasks that fall outside of their purview as a sitter.
And always, always trust your gut. If at any point your mama's intuition starts to make you feel wary, don't feel bad about going back to the drawing board.
This article was originally published on