Firefighter Lays Next To Child Car Crash Victim, Plays 'Happy Feet' To Calm Him Down
by Maria Guido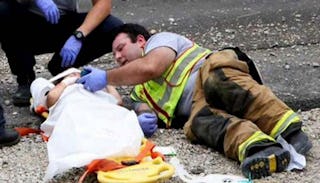 On Saturday afternoon, an SUV veered off an highway off ramp in D'Iberville Mississippi and crashed, flipping several times. Six people were in the vehicle: an adult driver and five small children. All five children needed medical attention. One first responder firefighter saw a hurt, panicked child and did his best to calm him down… he lay beside him in the road and played clips of the movie "Happy Feet."
The image shows D'Iberville firefighter Casey Lessard doing his best to help a young victim feel less scared and alone. He played a video of the animated penguin movie – which was genius. "The video calmed him down instantly," fire captain Darren Peterson told the Sun Herald.
The scene must have been a horrific one: one witness on the scene said all five children were ejected from the vehicle. That witness happened to be a retired Los Angeles firefighter who also jumped in to help. The retired firefighter, Rick Camarena, told the Sun Herald he stopped because he knew his training would allow him to be useful. "I saw five kids ejected," he said of the crash. "I know trauma criteria; I helped them." Two sisters also stopped to help: 15-year-old Mady Bogolin and 20-year-old Morgan Bogolin.
Can we take a minute to appreciate how amazing first responders are? They're with people at some of the most frightening, vulnerable moments of their lives. When you see someone like Lessard, who not only does his job but does it with compassion — it's truly touching. We forget how important the role of first responders is until we need them. And it's not just hired first responders included in this list — it's anyone who feels compassion for their fellow humans and stops to help when they witness any sort of trauma.
We need each other. This image is a great reminder of that.
This article was originally published on