Mom's Viral Post Urges Parents To Use 5-Point Harness Car Seats As Long As Possible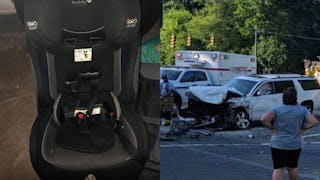 Image via Facebook/Sarah Sutton
North Carolina mom has message about car seat safety after her four kids survived a head-on crash
Sarah Sutton was going through a normal weekday routine with her four kids that any parent can identify with: school pick-ups, haircuts, and a quick trip to the grocery store. But as the North Carolina family was making their way home, a man ran a red light and slammed into their SUV head-on, totaling the vehicle. Luckily, all four children were securely and correctly strapped into their five-point harness car seats and suffered nothing more than soreness and seat belt injuries when it could have been much worse.
In the wake of the car accident, Sutton took to Facebook to share what happened as well as what she learned — and the post quickly went viral.
After the accident Sutton said, "many wonderful people stopped," pulling three out of four of her children out while calling for help. Sutton was pinned in the driver's seat, screaming, "Get my babies!" while surrounded by airbags and smoke. Finally, her last son, Liam, was rescued from his car seat and she was pulled from the car and transferred to an ambulance. She left for the hospital listed in critical condition, while her husband Neil traveled in another ambulance with her two boys and her mother-in-law traveled in a third ambulance with her girls.
The man in the other vehicle was listed as dead upon arrival at the hospital but was revived.
"We had x-rays and cat scans and thank god all was good," she wrote on her Facebook page. "Everyone at the ER was in shock that we were alive! Thank god for this vehicle that kept the entire cab in tact. Thank god I am a psycho mom who did not listen to her kid and let them ride in a booster! 5 point harness car seats saved my kids lives."
Sutton praised her car seats, her car (a 2016 Chevy Suburban), and the safety advice to keep kids safely in the back seat.
"Please I am begging you as a mom to really look at this. This could be you! This could be anyone! I do not want to hear about your poor innocent child that died because of a choice that you made for them that could save their life. My children beat the odds on Wednesday and we are very very lucky they are alive. Booster seat only once 65 lbs-100 and always back seat. The front seat has wrecked me as a grown adult! Do not do that to these poor growing kids! Back is always best! Do your best to protect them!"
Sutton tells Scary Mommy, "I cannot believe my post has gone viral! It was a very hard and emotional decision to post this on my private page," she says. "One of my friends asked me to make it public so she could educate other moms as well. I did make it public as I felt that my purpose was to help others have a wake-up call as we did."
She also said that she was relieved that the accident did not take place while her older daughter was in a booster seat.
"We had great car seats in my car," she explained, "BUT in my husband's car we had a junky old booster-type car seat just to transport my daughter to school in the mornings a mile away. When she carpooled to cheer, we used whatever extra booster seat our friend had. This woke us up and our children will only ride in appropriate car seats ALWAYS!"
Along with pictures of the accident and her children's miraculously minor injuries, Sutton posted basic car seat safety rules including the guidelines for rear-facing car seats, five-point harness car seats, boosters, and front seat riding.
She also shared how the family was dealing with the accident emotionally and psychologically.
"We are now dealing with body image issues, soreness, nightmares, depression, sensitivity to loud noises, just not feeling like ourselves," she wrote. "This is heartbreaking to see the emotional toll it is taking on our babies!"
But despite their recovery process, she said that the post was worth it to help educate families.
"We are now dealing with the emotional damage," Sutton said. "This has been awful but we are blessed to be here to talk to you. We just hope that we can help parents save lives!"