Flip-Flop Socks Are A Thing That Exists So Summer Can Live On Forever
by Julie Scagell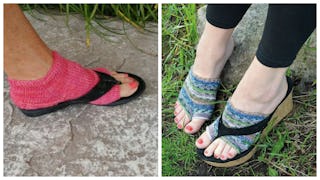 IMAGE VIA ETSY/BEAUCOUPBAGS/Instagram/jarbogarn
If flip-flop socks are wrong, I don't want to be right
There are a million reasons to love summer, but one of the biggest is not having to get you (or your kids) bundled up for the cold. There's the snow pants, the jacket, the hat — and don't even get me started on the boots. In the summertime, you just slap a pair of flip-flops on and off you go. If only they made something that keeps your feet warm but still allows the freedom and ease of the flop.
Wait. WAIT. There is.
If you're ready to wear flip flops 12 months a year (or already do but freeze your little piggies off in the process), you should head on over to the world wide web where a plethora of flip-flop sock options await you. These hand-knitted, colorful gems are a thing that exists and there are so many choices, you can literally buy one to match every outfit in your closet.
There are endless possibilities for the flip flop sock — winter bus stop runs, yoga, kitchen dance hour, pilates, pedicures, date night — you can never be fancy enough while trying to stay warm and toasty.
Are you a person who's always cold? Flip-flop socks. Want that 'one foot out of the covers, one foot in' feeling all day long? Flip-flop socks. Feel cheated that you can't look at your glorious toes all winter long? Flip-flop socks. Foot fetish? You get the drill (we're not judging).
These socks are the perfect answer to the age old "This porridge is too hot. And this porridge is too cold" argument — they allow your piggies to be just right all day long. I may be mixing up fairy tales here but you get the drift.
This is a versatile comfort item, a bit like immersing yourself in a bathtub full of mashed potatoes whilst reading a steamy romance novel. Or so I've been told.
Does anyone else want to shake their moneymaker around the living room channeling Jennifer Beals in Flashdance right now? Because these suckers will do just that, all the while protecting your tootsies from the elements. I'd call that a win-win.
This article was originally published on