Floating Wine Glasses Exist Now So Your Summer Officially Rocks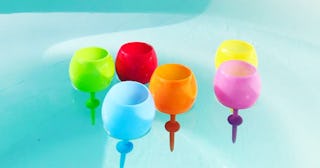 The Beach Glass/Instagram
Floating wine glasses are here to save your summer pool party
Have you ever gotten into a pool on a hot summer day and thought to yourself, "this is great, but what if I had floating wine glass nearby?" Your wish is our command. Floating wine glasses exist now, so you'll never have to float in a pool without a glass of rosé at arm's reach ever again.
A number of retailers are selling floating wine glasses for summer, including Aldi and Amazon, and a big thank you to the wine gods for solving the age-old problem of, "so you wanna get in the pool but your wine is way over there." We're living in exciting times, y'all. Buckle up.
The floating Aldi glasses hit shelves earlier this month and come in three colors (turquoise, white, and clear). The best part is that they are cheap, like $2.49 a glass cheap. You can buy (and inevitably lose or break) several without also breaking the bank.
According to Delish, the Aldi glasses are only available for a limited time, so if you don't live by the grocery chain or they're sold out before you get there, everyone's favorite online retailer — Amazon — has a number of floating wine goblet options as well.
This Amazon Prime set is $20.99 for two very elegant stemmed glasses. They float in the pool but ultimately look exactly like regular wine glasses, so you can use them year-round in (and out) of the pool. Plus, they're made of BPA-free plastic.
This other colorful set of four will also float in the pool, but their long stems have a small bulb in the center that allows you to stake them into the sand for a day of beach drinking too. This means enjoying your vino in or out of the water, which is great for those days when you'd rather stay dry.
The full set of four is $44.99, but you can also buy them solo for $12.95 a pop. Our biggest concern is that they'd tip over in a jacuzzi, but one reviewer stated that "they don't tip and spill, even with waves or jets on," so there you go.
If you want something with a touch of attitude, there's this "Hand's Off" floating wine glass.
We should point out that all the above-mentioned wine glasses will also float in a bathtub as well. Just sayin'.
If a long stem isn't up your alley — or you prefer beer or a cocktail — Amazon also sells these delightful inflatable drink holders shaped like swans.
Verdict is still out on what happens to your drink when your kid splashes in the pool while your wine floats nearby. Guess you just gotta drink fast and keep the Pinot Grigio on a constant flow. Happy summering!
This article was originally published on