10 Flower Coloring Pages To Make Your Kiddo's Art Skills Blossom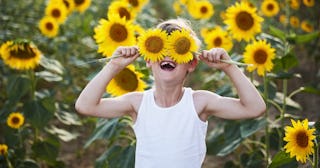 Johner Images/Getty Images
Some people are born with green thumbs. Then there are the rest of us, who can't even seem to keep any plants alive. No matter which group you fall into, we can all agree on one thing: Flowers are beautiful! Seeing a big, fragrant bloom just makes you feel happy, doesn't it? Well, prepare to be ecstatic, because we put together a collection of free flower coloring pages for you and your favorite little honeybees to fill in.
We don't just love flowers for their beauty. There are tons of interesting facts about flowers that contribute to their allure. Like, did you realize that roses are related to certain fruits (apples, raspberries, cherries, peaches, plums, nectarines, and pears)? How about the fact that, in the 1600s, tulips carried more value than gold? Or that different flowers have different meanings when you give them as a gift?
Basically, there are myriad reasons to "pick" these pages for a perfect afternoon activity.
Free Flower Coloring Pages
1. Bee and Flowers
Save the bees! Take time while your little one is coloring this beautiful bee-topped cluster of flowers to teach them about the importance of bees as pollinators. Our ecosystem would take a major hit if bees disappeared, as these insects are the backbone of agriculture. Let's just say life wouldn't "bee" fun without our little buzzing friends. Protecting bees is just as beautiful as the flowers they pollinate. If you want to give this activity added depth, serve up a snack of toast and honey while your kiddo colors. Or share this fun fact: Bees have five eyes and can fly up to 20 miles per hour!
2. – 5. Flowers, Flowers Everywhere
Dahlias and carnations and poppies, oh my! Each of these four coloring pages contains three robust blooms, giving you 12 flowers-worth of coloring fun. Really, though, it's much more than that. There are endless color combinations your little one could use with these particular coloring pages, making them a great choice if you're getting crafty with a group of kids. They would also make great gifts! One idea: Print out a bunch, have your kids color them in, and then let them deliver them to their grandma or grandpa. Or they could take them to a local senior citizens' facility to give the walls a shot of cheer. Whether they're paper or petals, everyone loves a colorful flower. Having a bouquet in your room is actually one of the best forms of medicine. It reduces stress, boosts your energy, and can even improve your memory.
6. Flower Collage
The best thing about this flower collage? You could print out 100 copies, and your kid would never color it in the same way twice. Talk about a fantastic indoor activity to keep them entertained for hours! Fun fact: Broccoli is a flower too… not a pretty one, but it's definitely part of the floral family. The word broccoli comes from the Italian word broccole which means, "the flowering crest of a cabbage."
7. Flowers Blooming
Have you ever seen a lime green daisy? Well, now's your chance. Not only can you find daisies on this page, but they can be found everywhere in the world, except Antarctica. So encourage your child to think outside of the flower box when filling in these three blooms. They can even add butterflies (and our favorite bees) in the background. Did you know the first and oldest flower was called the montsechia, which dates back 130 million years ago during the Crustacean period?
8. Flower Garden
Raise your hand if you wish you could keep flowers healthy enough to cultivate an entire container garden. (*raises hand*) If you're pretty sure being a gardener isn't in the cards for you, have your little one color this one for you instead. And you can just tell this bouquet smells as good as it looks. However, there are some stinky flowers out there like the titan arum. It literally smells like a rotting corpse.
9. Sunflowers
Is there anything more cheerful than a sunflower? How do we love them, let us count the ways! We love that each sunflower contains 1000 to 2000 seeds. We're obsessed with the fact that the French word for sunflower is "tournesol," which means "turns with the sun" — because they do, you know, follow the sun with their oversized faces. And it makes our hearts happy to know that each bloom is thousands of teeny flowers (the yellow petals and the fuzzy brown centers are considered individual flowers themselves). Plus, did you know that the tallest sunflower ever recorded was 30 feet tall?
10. Spring Flower
With spring comes fresh blooms sprouting through cool soil, and it's always fun to see what flowers pop up! Granted, you probably won't see many polka-dotted blossoms, but that's what makes this coloring page so very special. Some flowers are even more precious than gold. In the Dutch Golden Age period, this was actually true of tulips. In Holland, their bulbs were worth more than gold and cost 10 times the average middle class salary.
Click here to print out all of the flower coloring pages at once!
This article was originally published on