Folgers Might Win The Prize For Most Awkward Holiday Commercial
by Leah Groth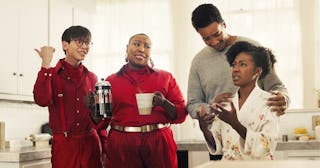 Folgers/Youtube
Folgers' new holiday commercial makes fun of the awkwardness of hosting family during the holiday season
The best part of waking up might be Folgers — or some other type of caffeinated beverage — in your cup. After all, many of us have trouble functioning in the morning before our daily pick-me-up — let alone deal with other people who don't understand our pre-caffeinated selves. The holidays can totally complicate this, as some of us are forced to co-habitate with extended family members and in-laws. Things can get awkward to say the least. Folgers has decided to tap into those potentially awkward family moments with their new holiday commercial, which is so friggin' creative and outside-the-box we almost can't handle it.
In the brilliant piece of filmmaking they have aptly titled "The Visit," a young lady walks into her bathroom wearing only a robe, to find the shower water is on. She obviously believes that her beloved is in the shower waiting for her, and starts to slip out of her robe and step in with him.
"Your husband woke up first, now you've got something up your sleeve/ What you didn't know was you were surprising your father-in-law, Steve," a woman singing the catchy jingle croons.
Steve, of course, is totally naked.
"Take a minute to clear your head," a man sings to her, while a woman next to her pours a cup of coffee. "Because that was really bad/ and the worst part is you just finally started calling him dad," they (who the company dubbed the Folgers Morning Harmonizers in an accompanying press release) sing in unison. Finally, the tormented woman, whose face displays a look of pure horror, is handed her cup of life juice (aka, coffee).
Holding her cup of coffee, she raises it up to her FIL (who is now covered by a towel from the waist down at least) and the harmonizers continue the whole "the best part of waking up is Folgers in your cup" jingle that hasn't completely gotten out of our head since we were just kids.
The commercial is getting some major attention — but in a good way unlike that recent cringe-worthy Peloton ad.
https://twitter.com/jetpack/status/1202598326782382082
On TODAY with Hoda & Jenna, Hoda Kotb and guest host Harry Connick Jr. found it so amusing they discussed it during the show.
"Now that's comedy," Hoda said. "You don't expect that from Folgers. You expect warm and fuzzy."
"That's pretty funny," added Connick Jr. "That's a bold choice." Get it…Bold? Like the coffee type.
"For Folgers Coffee, our objective for the creative was to shift our storytelling from traditions of the past to modern relatable mornings," Tina Meyer-Hawkes, vice president of marketing on coffee at The J.M. Smucker Company, said in a press release about the commercial.
While we hope we don't end up relating to this too much over the holidays, we appreciate the laughs, Folgers.