Hike! Hike! Score Big With These Football Coloring Pages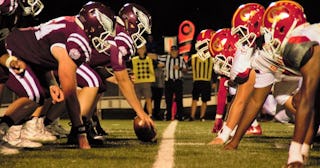 Muyuan Ma/Unsplash
Listen. Say what you want about football versus soccer versus rugby, but there's no denying that football is an American tradition. We've been looking forward to fall — AKA the start of football season — for more than 150 years. If you say you love fall, but only mention pumpkins, pumpkin spice, or other Halloween-type things, well, that's blasphemy. Fall is football season #EndOfStory. While some of us find all sports entertaining, nothing compares to our love for the game of football. But, what do you do with kiddos who are too young to play? How do you handle rained-out practices? Sometimes you have to look for a fun and creative outlet, and that's where we come in! These football coloring pages won't cause concussions, but they're a bangin' good time. Plus, if you read along with our included football facts, you might even learn something new.
And once your little MVP takes these pages to the end zone, we've got even more athletic-themed coloring activities for them to tackle. Knock it out o the park with our baseball and softball coloring pages. Or score big with future ballers by printing out our basketball coloring pages. Finally, our collection of soccer coloring pages is sure to please pint-sized Mia Hamms and Cristiano Ronaldos.
Free Printable Football Coloring Pages
Football Page No. 1
American football has been around for more than a century and a half in at least some aspects. As a matter of fact, most football aficionados credit the 1869 Rutgers versus Princeton game as the very first competitive football game.
Football Page No. 2
Of course, that was still 50 years before the invention of the NFL (National Football League) in 1920. The NFL season contains 256 games each year between teams in the AFC and NFC. And here's another NFL tidbit: Can you guess what year the first NFL draft was? The answer is 1936, and the first draft pick was Jay Berwanger.
Football Page No. 3
Those 256 games lead to, you guessed it, the Super Bowl. The Super Bowl is the most-watched television program each year. The Pittsburgh Steelers currently hold the record for the most Super Bowl wins by a team — they've won six times.
Football Page No. 4
Super Bowl wins isn't the only record worth breaking in football, though. For instance, Jerry Rice holds the record for most touchdowns. He scored 208 touchdowns during his 20-year NFL career, most of which was spent with the San Francisco 49ers. (Second place goes to Emmit Smith, with 175.)
Football Page No. 5
Another cool statistic to look at is rushing yards. In 1984, Eric Dickerson set the record with 2,105 rushing yards in a single season. Adrian Peterson, of the Minnesota Vikings, is in second place, coming within just eight yards of the record in 2012.
Football Page No. 6
When you look at rushing yards throughout a player's entire career, you have to go back to Emmit Smith. During his career, he ran an impressive 18,355 yards! In second place for most rushing yards in a career is the infamous Walter Payton of the Chicago Bears, who rushed for an impressive 16,726 yards.
Football Page No. 7
Walter Jerry Payton ("Sweetness" to many) played for the Chicago Bears for 13 seasons. During that time, the Hall of Famer was a nine-time Pro-Bowl selectee and was on the All-Pro first team five times. He won one Super Bowl and was NFL MVP (most valuable player) in 1977. Payton is still considered one of the best football players in history.
Football Page No. 8
Another big name you might hear a lot of in football? Vinny Testaverde. Testaverde broke records even before he made it into the NFL (he was a first-round draft pick). In his senior year of college, he became the first player to win every major college football award: The Heisman, the Maxwell, the Walter Camp, and the O'Brien awards all went to Testaverde in 1986.
Football Page No. 9
The Super Bowl might seem like a time-honored tradition, but it's actually not nearly as old as the NFL. The first Super Bowl was played in Los Angeles in 1967. Green Bay won… even without Brett Favre. And can you guess how many teams are in the NFL? The answer is 32!
Football Page No. 10
Granted, once the Packers snagged Favre, they put him to good use! He holds the record for most quarterback starts. He started 297 games during his long and storied career. Granted, he isn't the richest football player in the world — that trophy goes to Roger Staubach. But, hey, Favre has plenty of other records to his name (including most fumbles).
Click here to print all of the football coloring pages at once!
This article was originally published on