Forever 21 Is Sending Diet Bars With Their Online Orders And People Are Pissed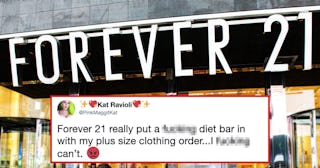 SOPA Images/Getty and PinkMaggitKat/Twitter
This move by Forever 21 is fatphobic and potentially harmful to customers
Customers who placed online orders from Forever 21 recently were shocked when their clothes arrived… with something extra in the box. The fast-fashion retailer has apparently been including Atkins diet bars as "freebies" with all its online orders lately, and people are not having it.
Twitter pretty much lit up with folks who were not pleased that they ordered clothes and got them with a side of fat-shaming diet culture. Many of the tweets came from women who had ordered from the store's plus-size collection and were particularly disgusted that they received a surprise notice from the store to which they had just paid money for clothes that they should try out a diet bar.
These Atkins bars are marketed as "snacks," but the Atkins website (which you may remember from the low-carb craze of the late '90s and early 2000s) advertises the bars as a way to "treat yourself without worrying about your carb count." They are undeniably diet bars, and what's worse, they're from a brand that is known for its promotion of fad dieting.
The fact that these were sent unsolicited to customers is problematic (and potentially dangerous) for a lot of different reasons. For one, it's insulting to many customers to insinuate that they should be dieting, and while this was apparently sent to everyone who placed an online order with Forever 21, it doesn't really change the fact that the brand apparently thinks all of its target market should be that concerned with losing weight.
Plus, it just invites those customers to question and critique their bodies. Trying on clothes is a vulnerable activity for many women who struggle with their body image. Imagine if you were in the fitting room trying things on, and a store employee knocked on the door and handed you a diet bar, saying, "I just thought you might like this." You would be horrified, right? This isn't really any different from that.
Research shows that advertising that promotes thinness (i.e. sending diet bars to all your customers without their knowledge or consent) is harmful to women and girls. For customers who are struggling or have struggled with an eating disorder, this could potentially trigger them and negatively impact their health. And why is no one talking about the fact that Forever 21 caters to young girls, too? Kids in middle and high school shop at this store. Did they receive diet bars in their orders? Because no kid should be eating diet bars to lose weight. If a child actually needs to lose weight for their health, the way to do that is not with diet products.
The store finally released a statement saying they would stop with the unsolicited diet bars.
"From time to time, Forever 21 surprises our customers with free test products from third parties in their e-commerce orders," it read. "The freebie items in question were included in all online orders, across all sizes and categories, for a limited time and have since been removed. This was an oversight on our part and we sincerely apologize for any offense this may have caused to our customers, as this was not our intention in any way."
But it's too late, Forever 21. The damage has already been done.