Pride Parade Goers Break Down At Offer Of 'Free Dad Hugs'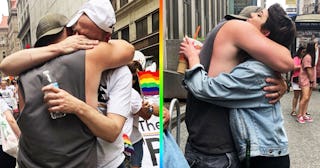 Howie Dittman/Facebook
After giving free hugs all day at Pride, this dad wants parents to step up and just love their kids
By his count, Howie Dittman gave out over 700 totally free hugs at the Pittsburgh Pride Parade this past weekend, and what he learned that day was pretty simple: it's easy to give your child love and acceptance, and not doing it leaves them with an emotional burden that he can't imagine.
After his day of loving and supporting the queer community, he posted some of his thoughts on Facebook, and they gave us major, major feels:
"Imagine that your child feels SO LOST FROM YOU that they sink into the arms of a complete stranger and sob endlessly just because that stranger is wearing a shirt offering hugs from a dad," he wrote. "Think of the depths of their pain. Try to imagine how deep those cuts must be. Please don't be the parent of a child that has to shoulder that burden. I met WAY too many of them, of all ages, today."
Dittman shared two particular experiences he had that day in the post. The first was about a man who was kicked out of his home when he came out to his parents.
"[His parents] haven't spoken to him since. He cried on my shoulder. Sobbed. Squeezed me with everything he had. I felt a tiny bit of that pain that he carries with him every minute of every day. He was abandoned because of who he loves. And on June 9th, 2019, he was participating in a celebration of love when he was brought to his emotional knees by a shirt that said 'FREE DAD HUGS' on a complete stranger."
He also shared the story of hugging a young woman who barely spoke to him at all.
"She stood in front of me and looked up at me, with a look of sadness and helplessness that I'll never forget," he wrote. "She hugged me with everything she had. And I hugged her back. She held on for so long, melting into me, and thanked me endlessly. And I can't stop thinking about her. What she must be going thru with her family… the ones who are supposed to be there for her no matter what. Who does she go to when she needs advice on love, money or just life? Who does she share old memories with that only her parents would have been there for? What are her holidays like? How often does she hope for that phone call, with unconditional love on the other end? I don't know her story. But it doesn't feel like a huge leap to assume she's lost those who should love her the most and forever."
Judging just from the comments, Dittman's words and actions have had an impact that goes beyond the Pride Parade itself.
"I have often said if your family disowned you… I am your family now," wrote one woman from Illinois. "Seeing the impact you and your family had on these fellow humans has inspired me to do the same thing at this year's pride in Chicago. Just ordered free mom and dad hugs shirts and will be sporting them in a couple weeks!! Thanks for the inspiration and for being a quality human!! Kindness is free, sprinkle that shit everywhere!!"
Dittman's message quickly went viral, and has been shared over 150,000 times since Sunday. He's also received thousands of comments — and connected with both people he wrote about in his viral post.
"I have been able to connect with the individuals from the particular post, and have heard from many others that hugged me along the way and remembered," he told Scary Mommy.
He also shared another batch of photos from his weekend of passing out free hugs.
And that's not nearly all the good that he's been up to. Dittman also runs a Facebook page called Helping Butler County, which generally brings do-gooders from his area together to help those who need support, whoever they are. Just in the past few months, they've helped veterans, needy families, local non-profits, and the homeless.
"This is the first time I've been able to make it to the parade," Dittman said about him and his group of kind volunteers, "but it's just kind of what we do. We look for opportunities to change a world or two, and we do it."