The 'Friends' Cast Joined James Corden For 'Carpool Karaoke'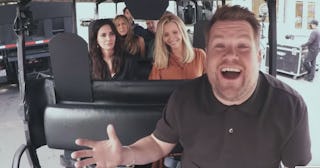 The Late Late Show with James Corden/Youtube
Because we'll never, ever get tired of Friends nostalgia, it's perfectly fitting that the cast joined James Corden for a Friends-themed edition of Carpool Karaoke.
If last month's epic Friends reunion left a Central Perk-sized hole in your heart and you're clamoring for more content with your favorite fictional NYC pals, you're officially in luck. The entire cast joined James Corden (who also served as the Friends reunion host) for a behind-the-scenes version of Carpool Karaoke, and trust us when we say you'll laugh, you'll cry, and you'll sing your heart out.
In the clip, Corden can be seen zipping around the Warner Bros. studio lot in a golf cart on the way to Stage 24, which is still called The Friends Stage in honor of the sitcom's success. He's quickly interrupted by Courteney Cox and Lisa Kudrow, who hop on in, before they nearly pass by Jennifer Aniston and Matt LeBlanc, who are hitchhiking and in need of a ride to the set. Then, of course, the gang is stopped by David Schwimmer and Matthew Perry, who join them for an impromptu singalong of the show's famous theme song, "I'll Be There for You," by The Rembrandts.
Sharing how emotional it felt to be reunited on the same set where they spent a decade filming the series, Kudrow even teared up a bit, getting a warm embrace from Aniston, who sat behind her.
After Corden steps out of the golf cart forgetting to properly park it, mild panic ensues, with the actors joking about what would happen if someone had fallen out and been run over. Thankfully, no injuries occurred and all escaped the incident unscathed.
Corden then visited the famous apartments — which were recreated for the filming of the reunion — giving a behind-the-scenes tour of the set and even taking a seat in one of Joey and Chandler's infamous recliners. He also claims the hallway "still smells like cheesecake." Ah, nostalgia.
He linked back up with the group at Central Perk, where they reminisced about the many good times they shared over their ten years together. "These five people right here mean the world to me," said LeBlanc, which caused Kudrow and Aniston to cry.
They finished with a game called "The Best Friend Test," in which they each pointed to the person they thought fit the bill for Corden's questions, including "who broke character the most while filming?" and "who is the best dancer?"
Spoiler alert: They all think each other are the friends who will be there for you when the rain starts to pour. (We're not crying, you're crying.)