From The Confessional: People Have Big Feelings About Trick Or Treating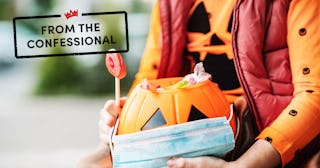 ArtMarie/Getty
Well, we're going on eight months into this nightmare and, as calendars tend to work, another holiday is upon us. First quarantined Mother's Day came and went, then all the summer holidays, and now fall is here. That means Halloween, Thanksgiving, and winter holidays are just around the corner, but… we're still in the middle of a pandemic.
So it's time to brace for more disappointment. More canceled traditions. More "virtual" or "Zoom" get-togethers as we stay hunkered down, waiting this out.
Halloween, for many of us, will be just that. Some families are still attempting a small scale trick-or-treat — maybe to a few trustworthy neighbors who can toss candy from a safe distance. Others have canceled it all together and plan on snuggling up in front of a scary movie and relying on candy delivery from Amazon.
Whatever your family decides to do, for all the holidays coming up, just keep reminding yourself that the health and safety of those beautiful people you love so much is the most important part. Generations before us have endured pandemics, have made sacrifices, and have emerged stronger than before, knowing they can handle life's challenges. We can too.
In the end, even if your kids don't end up dressing like a scary clown or P.J. Masks or an LOL doll for Halloween, they'll be okay. Kids are tough. Toss them an extra candy bar, let them stay up late in a blanket fort watching The Nightmare Before Christmas, and your pandemic Halloween of 2020 will still be a joyous night to remember.
I mean, we all need a break from wearing masks anyway, right?
Kids are going back to in-person school the Monday after Halloween. Yeah, no guaranteed disaster there with kids going trickortreat.
Confessional #25802060
Not planning on letting my kids trick or treat- our state has growing Covid cases and way too many Trump supporters who refuse to wear masks. I'm not letting my kids near them over some stupid candy!
Confessional #25798371
Not taking kids trick-or-treating this year...no thank you to candy that people touch and put in a pumpkin.
Confessional #25796648
Lots of families are stamping Halloween of 2020 with a big old NOPE. Breathing in strangers' air as they drop candy into your kids' buckets? Going into crowds of boogery kids? Ringing a doorbell 50 other kids have touched? PASS.
The costumes, the candy, the spooky, the kid crap, the trunk or treats- I hate Halloween
Confessional #25800287
I don't get why people are so obsessed with Halloween and I think the cemetery and coffin decorations around my neighborhood are creepy.
Confessional #25800170
I fucking hate Halloween. I hope they cancel all that shit. Walking around in the dark freezing my ass off? No thanks.
Confessional #25796433
And bonus, lots of us already hate this annoying holiday, so having it canceled is a win!
I'm having a hard time accepting the fact that there will be no trick or treating this year. I feel so bad for my son. I want him to have all these memories..
Confessional #25802000
I'm in tears thinking about how sad and awful holidays are going to be this year. Halloween with no trick or treating, Thanksgiving and Christmas without families together. My heart breaks for all of us right now.
Confessional #25790321
I think its dumb that stores have Halloween candy on the shelves, but nobody will probably even go trick or treating this year.
Confessional #25796309
We're not handing Halloween candy this year or trick or treating because of COVID-19 and I'm actually a bit happy about that.
Confessional #25794294
Because the truth is, whether you're overjoyed that you don't have to deal with annoying itchy costumes and spending money you don't have on unnecessary sugar, or you're devastated because this dark and spooky day is your favorite holiday of the year, it's time we accept that like everything else this year, Halloween won't be the same.
Halloween is what I look forward to every year, and if it's cancelled, I'll protest! Seriously though don't care if I'm in my 30s I love Halloween #savehalloween
Confessional #25797211
I LOVE Halloween!! Costumes Done!
Confessional #25751594
I am the crafty Pinterest mom everybody hates. Yep, that's my house, decorated just like that. Yep, I baked those. Yep, made those costumes. Nope, I have no life.
Confessional #18760264
Totally not a Christmas person. Halloween is my favorite holiday by far. In the Bible Belt and this makes me a freak.
Confessional #25759600
Not everyone is on board with the cancellation of Halloween, however. Many costume/candy/ghost-lovers are still out, in full force.
I put a bowl of candy outside my door with a sign saying "Please take just one". There never was any candy in it, but everyone coming by will think I DID put out candy and the first trick or treat er took it all. Saves me money that way.
Confessional #18763696
I respect people who put a note on their door saying 'No Trick or Treaters Please', but your children had better not turn up at my door trick or treating. That's just bloody cheeky as far as I'm concerned.
Confessional #18758075
I took my 4 month old trick or treating and didn't give a rats ass what people thought!
Confessional #1785586
When it comes to Halloween, you can play by the rules. Or don't. This year's a bit of a free-for-all—for better or worse. Whatever you do on October 31, however, please mask up, social distance, and wash your hands.
Halloween is a good reminder that we aren't done yet with COVID-19, and it's going to be around for the rest of this year's holidays too. This is the year to make new traditions (or put your regular ones on pause) and make lemons out of lemonade. Or, on that dark last day of October, make hot chocolate out of chocolate bars and stay home.
Because 2020 really has been one big trick, hasn't it? But that doesn't mean we can't still have treats (delivered) and steal candy from our kids after they're asleep. That perk of parenthood is one thing COVID can't take from us.
This article was originally published on