10 Fun First Date Ideas That Aren't Just Dinner & A Movie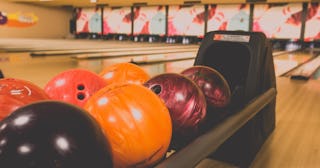 Persnickety Prints/ Unsplash
So you've matched with someone on a dating app or site, or perhaps you met someone out in the wild. Mazel tov! Sure, texting banter is fun, but eventually you're going to want to meet the person and go on an actual date. Besides first date jitters, half the problem with planning an outing and setting the perfect atmosphere is that it can be tricky figuring out what to do. So with that in mind, we've curated 10 fun first date ideas that you're both bound to love, and who knows, the right first date might lead to a second.
RELATED: 50+ Rainy Day Date Ideas That Will Leave You Feeling Warm And Cozy Inside
Sure, bowling alleys aren't as plentiful as they were a few decades ago and yes, most of them smell kind of funky (it's probably the communal shoes, TBH), but bowling is also a really fun first date activity. It'll spark some friendly competition, it's an excuse to eat junk food and drink cheap beer, and — if things aren't going well — the end of a game is the perfect way to wrap up a date.
See Some Stand-Up Comedy
Even smaller cities have at least one comedy club or venue that showcases funny people, and it's a great place for a first date. Will the "comedy" be hilarious? Maybe not. But in a way that's even better because you can bond with your date over how terrible the set was. Either way, you're bound to laugh.
Visit a Museum
Even if you're not a "museum person," exploring a museum with a new person can be fun. If it's somewhere you've been before, show your date your favorite exhibits or pieces of art. If it's your first time, take it all in together. If you're a bit iffy on the person, opt for a smaller museum — you don't want to be stuck with a dud in the Met.
Take a Class
Keeping up a conversation during a long dinner can be a challenge, so eliminate that possibility by taking a class with your date. Whether it's cooking, flower arranging, survival skills, martial arts or ballroom dancing, pick something that neither of you is an expert at so you're both starting from scratch.
Go Out for Breakfast
No, we don't mean the morning after — get your mind out of the gutter. We're suggesting going to breakfast as your actual date. This may sound strange, but hear us out. On first dates, it's a good idea to pick an activity with a time limit. And although technically you could eat breakfast all day (and if you do, we applaud you), most people have plans during the rest of their day, so the breakfast date can't go on forever. And even if you don't have plans for later that day, if things aren't going well, you can always make something up.
Go to the Zoo
If you haven't been to the zoo since you were a kid, a first date is the perfect time to go. Animals are built-in conversation starters. You can talk about where you've traveled and the kinds of animals you saw there. Or just walk around and learn new things.
Related: 10 Fun Fall Date Ideas That'll Have You Feeling Cozy And Smitten
Take a Picnic to the Park
Grab some of your favorite takeout (ideally not spaghetti or wings), pack a blanket, and take your date to the park for a picnic. Depending on the open container laws in your state, you could also throw in a bottle of wine for good measure. If you finish the food and want to do something else, pack up the picnic and take a walk.
See Some Live Music
Plenty of bars and coffee shops have live music, so do your research ahead of time and pick a place that's hosting some sort of musical event. Similar to the comedy outing, if the music is great, then you enjoy it. If it's bad, then you can make snarky comments about it. It's a win-win, really.
In addition to live music, a lot of bars now host trivia nights with various themes. Impress your date with your vast knowledge of useless facts, or just sit there while they try to impress you. Healthy competition with the other teams is a great bonding experience.
Meet for Ice Cream
Unlike having dinner together, ice cream is a relatively quick date. If you like the person, ice cream can turn into drinks or another snack. If you can't wait to escape, this is the ideal date: ice cream cones are basically melting ticking time bombs with very short lifespans, so you'll be able to make your escape.
This article was originally published on