Furloughed Workers In Need Of Help Have Started 1,500 GoFundMe Pages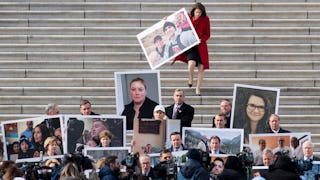 Image via Bill Clark/CQ Roll Call/Getty Images
While Trump continues the government shutdown for his wall funding, furloughed workers are crowdsourcing money for bills on GoFundMe
As the partial government shutdown continues into its fourth week, the 800,000 government employees who have been furloughed are becoming more and more in need of financial assistance as they go without pay. GoFundMe now reports that over 1,500 workers have started GoFundMe pages just to scrape together enough money to pay their bills, keep food on the table, and buy essentials for their children.
Although some workers, like TSA agents, still have to report to their jobs, they aren't seeing their paychecks. Even families with emergency funds, relatives, and other safety nets are running into financial issues as the shutdown breaks records and barrels toward the 30-day mark.
The workers crowdsourcing money for bill are as diverse as their needs.
One woman, Carey Julich Tompkins, needs money to support her sick husband and pay the rent.
"Due to the government shutdown I am unable to pay my rent and to pay for medication for my husband who has lupus," she says on her page. "I am the sole income provider for my household. I have no savings or credit cards to rely on. This is my only other avenue. I am asking for your assistance and help in this time of need."
Another woman, who identifies herself as Talaya, says that she's in danger of losing her new home because of the furlough. She usually works in housing and lending, but now she doesn't know how she'll be able to keep buying groceries.
"I am asking you for help so that my husband, three-year-old child and I don't end up losing our first home (that we just purchased), defaulting on our loans, and truly suffering devastating irreparable financial harm," she writes. "My family and I are truly grateful for any and all of your help and support!"
Kevin Garfinkle works for the TSA in Florida, and doesn't know how he'll buy diapers for his baby since he's the family's sole provider.
"I am my family's only source of income and due to the partial government shutdown I will not be receiving a paycheck until the government reopens, even though I am still required to report for duty, which means bills will go unpaid but more so than that I will be unable to buy groceries or diapers for my family," he says. "This is not something I ask lightly."
Furloughed worker Michael Smith, in Washington, DC, is simply scared for his family, as he says on his page.
"It's hard and no one likes asking for help, but with no end in sight it's very scary," he writes. "We are a family of 4 my wife works but it's not enough to make up for my not bringing anything home. Our kids are being tough about the whole thing but we can see there stress as well… Once this is over we will be fine but the damage it's doing with no end in sight is growing and calls are starting. Some agreed to hold off but rent and food are a must. I have proudly served my country and would do it again in a heartbeat. But now my battle is providing for my family."
GoFundMe said that the campaigns started in early January, as workers missed their first paycheck, and have grown steadily since then.
They also reassured those who are thinking about donating that all of the pages have been vetted for authenticity, and that they have a guarantee that any donations made to fraudulent pages will be refunded.
"We have a dedicated Trust and Safety team reviewing all campaigns related to the government shutdown," GoFundMe spokeswoman Katherine Cichy told CNN. "We deploy proprietary technical tools and have multiple processes in place to verify the identity of campaign organizers and the beneficiary of the campaign. Before money is transferred, an individual's information, including their banking information, must be verified by our payment processor."
According to a 2018 survey, 78 percent of Americans live paycheck to paycheck, and 71 percent of Americans are in debt. Both numbers are up significantly from 2017.