'Game Of Thrones' Monopoly And Other Game Night Fun For Grown-Ups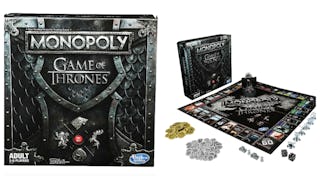 Image via Walmart
'Game of Thrones' Monopoly is here just in time for the final season premiere next month
With the season eight premiere of HBO's Game of Thrones just a few short Sunday nights away, what better time to buy the re-vamped version of the show in Monopoly form? It would also make a pretty great gift for anyone you know who is a fan of the show.
And really, is there anyone out there who isn't a fan of the show? You GoT hipsters, you.
The gameboard, packaging, tokens, money, Chance cards, and game pieces are all inspired by the popular TV series. Players can move around the board buying as many Game of Thrones properties as you can. The more you own, the more rent you can collect from opponents. The last one with money when all other players have gone bankrupt, wins. And yes, you can borrow from the Iron Bank.
If board games or card games aren't your thing, welcome to Catch Phrase. There's literally no way you can't be good at this game or enjoy it, especially the adult version. Get your friends together, choose teams, and try to get your teammates to say the displayed word or phrase — some of them are safe for little ears, some definitely are NOT.
C'mon, it's a classic choice for game night! You'll be sure to die laughing at your friends and family as they sketch things out. And the guesses can be just as hilarious as the sketches, making it the perfect way to get the party started.
The Speak Out game brings friends and family together for laugh-out-loud fun as players try to say different phrases while wearing a mouthpiece that won't let them shut their mouth. Which is hilarious all on its own — perfect for game night!
Bring Family Feud home and put your family and friends to the test. Based on a national survey, the Family Feud team placed the top answers on the Face Off cards. Survey says… yes, you need this.
If you don't have at least one version of this game in your house ready to whip out for holidays or game night parties, what are you even doing with your life? How many games can you think of where you can use "side-boob" as an answer?
The ultimate trivia/listicle game. It's a classic for so many reasons — mainly so you can feel way smarter than most of your friends about certain subjects and letters. Plus re-reading answers after you're all finished with the game is one of the best parts of playing it!
Drink-a-palooza party board game: combines "old-school" + "new-school" adult drinking games featuring beer pong, flip cup, kings cup card games & all the best party games for adults. So yes, it's perfect.
Get ready for tons of fun topics, ridiculous responses and nonstop laughter. The Loaded Questions adult version lets you and your companions take turns guessing which player wrote which answer. Playing this with close friends and a few drinks is the perfect recipe for a memorable night.
Adult Charades Game is a naughty party game for naughty people! Adult Charades is an adults only version of the classic party game. Players take turns acting out things like Horny Devil, Mr. Woodcock and The Little Man in the Boat and try to get their teammates to guess as many answers as possible each turn within a minute. Love. It.
Whatever game you go with, hopefully you fare better than Monica and Rachel did when it came to their apartment and that ill-fated "lightning round."
We may earn fees from purchases made via links on this page and affiliated sites. All opinions are our own.
This article was originally published on