A 'Game Of Thrones' Prequel Is Officially Coming To HBO
by Cassandra Stone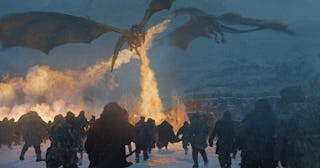 IMDB
'House of the Dragon' will focus on the Targaryen dynasty from 'Game of Thrones'
Game of Thrones fans, rejoice: it's not the end of the road for the beloved HBO series. The network recently announced that they've given the go-ahead to a prequel series called House of the Dragon, which will begin production sometime next year. The new series will focus on the Targaryen dynasty in all their dragon-loving glory.
HBO says the prequel, which is based on the "Fire and Blood" series by George R.R. Martin and Ryan Condal, is set 300 years before the beginning of Game of Thrones. It will tell the origin story of House Targaryen, Daenerys' family, and how they came to rule King's Landing.
House of the Dragon is based on events chronicled in Martin's Westeros companion book "Fire and Blood." The series, like the book, will largely focus on the events that led to the Targaryen's long reign over Westeros, beginning with Aegon I Targaryen and his infamous conquest.
According to Vox, Aegon's Conquest brought forth the "Doom of Valyria," a catastrophic, violent event similar to the destruction of Pompei in real life. Valyria, the eastern neighbor of Westeros, was once the ruling country of Essos. But during the Doom, Old Valyria was destroyed in a single day by a massive volcanic eruption, followed by earthquakes that altered the geography of the continent, and brought about the extinction of most of the region's dragons.
Interestingly, House Targaryen remained unscathed by the Doom, as did most of the family's dragons, which helped the clan rise to power. And if we learned anything from Game of Thrones, it's that if a Targaryen loves and seeks anything in life, it's power.
"The 'Game of Thrones' universe is so rich with stories," said Casey Bloys, president of HBO programming. "We look forward to exploring the origins of House Targaryen and the earlier days of Westeros along with Miguel, Ryan and George."
Ryan Condal will partner with Miguel Sapochnik and share showrunner duties on the new series. Sapochnik, who has an overall deal at HBO and directed several episodes of Game of Thrones (including "Battle of the Bastards") will direct the pilot. David Benioff and D.B. Weiss, the showrunners and creators of the original Game of Thrones, are not tied to this prequel. Which might make some fans happy, given how rushed and inconclusive the entire series ended in the finale back in May.
If House of the Dragon follows Fire and Blood in its entirety, it will also cover the "Dance of the Dragons," the war over succession similar to the English Wars of the Roses, which divided the Targaryens and led to the division of the country into civil war.
No word yet if we'll catch a glimpse of Emilia Clarke as Dany at any point in the series, but there's nothing wrong with holding out hope to see our beloved Dragon Queen once again.
This article was originally published on