Catch 'Em All! 20 Adventurous ARG Games Like 'Pokemon Go'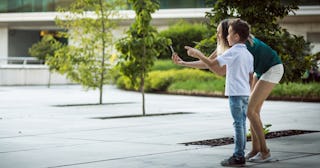 Vertigo3d/Getty Images
Pokémon Go took over the world when it was released in 2016. The augmented reality game that places you inside your phone sent people all over creation trying to collect Pokémon characters. "Trainers" started wearing all manner of Pokémon gear, quoting Pokémon characters, and even telling Pokémon jokes. In short, it was a craze that exploded, convincing all its players that they had to catch 'em all! In fact, because people were going so many places trying to collect the characters with this game, businesses started to create Pokémon-related products to draw in the customers. Even Starbucks created a Pokémon drink that coincided with gameplay so that more players would find their way into the cafes.
Pokémon had already been hugely popular, though just in its card form. The collectible cards — some of which are worth good money — served as both gameplay and keepsakes. But it only made sense for something so popular to modernize; hence Pokémon Go was born. Though the game eventually fizzled ever so slightly, it's still well-loved by fans.
Some people, however, quickly moved on, ready for a new game to play. The following games are some of the most popular that people have turned to, many of which give off similar vibes. If you're ready to take your own gameplay to a whole new world, check out these other games like Pokémon Go.
Games Like Pokémon Go
1. Zombies, Run!
This game is actually part exercise app, part game. You play a runner within the game, and you have missions that you have to follow. With music playing in your ears, you run, walk, or jog where you're told. But if zombies show up to chase you down, you have to speed up to get away from them. Like Pokémon Go, you're watching the world through your phone screen, but in this game, you're running away from something more so than running toward things to collect.
2. Harry Potter: Wizards Unite
Go inside the wizarding world of Harry Potter in this augmented reality game that's basically Pokémon Go but with different characters. You'll find yourself immersed in familiar magical locations and encountering well-known creatures from the books and movies. You'll have tasks to complete and sorcery to perform, all through your phone screen.
3. Real Strike
Real Strike lets multiple people get in on the action. It's a mixture of a real-life game and augmented reality, and word of warning, it can be rather violent due to it being a shooting game. It's a shooting game that will polish your aiming skills through your phone's screen and link you up with friends through the process.
4. Ingress Prime
Ingress Prime, which is the newer version of Ingress, is similar to Pokemon Go in that it's an augmented reality game that guides you around your surroundings. However, with this fun game, you'll discover points of interest in your area alongside playing the game. These discoveries play into the game itself and lead you into a fantasy world.
5. Dragon Quest Walk
You'll head into a great adventure with Dragon Quest Walk. Immerse yourself into the game on your phone while you fight magical beings and take on quests. The more battles you win, the more you can access within the game. Plus, your character will continue to level up as you go — all while wandering around your own area.
6. The Walking Dead: Our World
Have you ever wanted to hunt zombies in real life? Well, in The Walking Dead: Our World, you'll get an experience that's pretty close. If you're looking to be the very best zombie hunter and get some practice in before the undead take over the world, this game is for you. You'll be placed right in the middle of a dystopic scene that'll give you a crash course in apocalyptic warfare.
More Games Like Pokemon Go
Randonautica
Angry Birds AR: Isle of Pigs
The Witcher: Monster Slayer
Run an Empire
Jurassic World Alive
ARrrrrgh
AR Dragon
Walkr
dARk: Subject One
Sharks in the Park
Clandestine: Anomaly
The Machines
WallaMe
Temple Treasure Hunt
This article was originally published on