15+ Exciting Games Like 'Roblox' For Your Family's 'Virtual Explorers'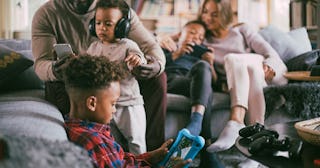 Maskot/Getty Images
Do you have a gamer at home? If so, you know that video games today are much different from those we played as kids. It's a whole new (digital!) world out there. For better or worse, kids play most games now on the internet. Playing online was especially helpful at the height of the pandemic because kids still had a way to connect even when it wasn't safe to gather in person. One of the most popular video games out right now is Roblox — a game that offers kids the opportunity to build, create, and interact with other players on the platform. If your kiddo enjoys playing Roblox but you're ready to hear about something else for a while, you need more games like Roblox to add to the rotation.
Don't worry; we're not going to leave you stranded, roaming the interwebz on an endless quest. Below, we're sharing the best games like Roblox for gamers in search of a new challenge. This won't be an exhaustive list, but it's plenty to get you started. Ready? Here we go.
What Is Roblox? An Explainer for Parents
Before we begin sharing Roblox alternatives, we'll give a brief overview for parents who aren't familiar with the popular online gaming platform. Roblox is a program that allows players to design their own games, play games that others have developed, and chat with other players through the app. Because of the open-ended and interactive nature of the game, Common Sense Media has given it a 13+ rating. Of course, younger kids can play, but it's important to keep a close eye on their online activity.
Roblox takes on a "freemium" model where you can play for free, but if you want to purchase upgrades in the game or add-ons for your avatar, it'll cost you. The virtual currency used in Roblox is called Robux. If you don't want your kids spending money on Robux without permission, be sure to turn off the purchasing option in the settings.
Kids can play Roblox on Xbox, PC, Mac, and most mobile devices. However, it is not available on the Nintendo Switch or PlayStation. Want to give it a go? Create an account and start playing today.
Creative Online Games Like Roblox For Kids and Teens
1. LEGO Worlds
Like its IRL counterpart, LEGO Worlds is a brick-by-brick building experience. Though marketed to kids, players of any age will have fun creating their own personalized LEGO world. LEGO Worlds does have an online multiplayer option, but the functionality is much more limited. This makes it a safe alternative to Roblox for younger kids.
2. Fortnite
Fortnite might not be the first game that comes to mind when you're researching games like Roblox, but hear us out. Fortnite is insanely popular (like Roblox), and it also offers a freeform building component and multiple ways for players to socialize within the game (again, like Roblox!). Fortnite is free — with in-game purchase options — and can be played on a wide variety of devices and video game consoles. The game's premise is simple while providing an incredibly immersive experience for players. Fortnite is a fun game of choice for kids who enjoy Roblox.
3. Minecraft
Minecraft, like LEGO Worlds, is a digital block-building game. You can choose from two modes of play — creative or survival. Minecraft is not free but can be purchased inexpensively for most devices and video game consoles. It's one of the highest-selling video games of all time. Minecraft is not only popular with kids; it's a widely used resource in schools and homeschool circles because the educational applications are almost endless.
4. Terraria
Another sandbox game, Terraria is similar to Minecraft in many respects (yet, there are plenty of differences too!). While Minecraft centers on building and crafting, the focus of Terraria is primarily battling and exploration. Terraria offers a creative and adventure-packed experience for kids. That's why we're recommending it as a fun choice for kids who like Roblox.
5. Creativerse
Creativerse is a sandbox survival game like Minecraft that also shares similarities with Roblox. It is self-described as "a sandbox adventure as big as your imagination." It's a block-based, multiplayer game created by Playful Corp. available on Windows and Mac computers. Creativerse takes on a free-to-play model with upgrades at an additional cost. If Roblox entertains your kids, they'll have a blast playing Creativerse.
More Creative Online Games Like Roblox For Kids and Teens
Are you looking for more games to satisfy your Roblox playing needs? Here are several games that offer the same Minecraft feel. These programs provide a creative space to build and design a world of your own.
CastleMiner Z
Cubic Castles
Garry's Mod
Growtopia
KoGaMa
Minetest
Mythruna
Rising World
Terasology
The Blockheads
Trove
Wurm Unlimited
This article was originally published on