Former 'Cosby Show' Actor Responds To Being 'Job-Shamed' For Working At Trader Joe's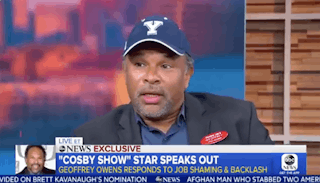 Image via ABC News
After a photo of Geoffrey Owens working at Trader Joe's went viral, the actor (and grocery worker) had words for anyone partaking in job shaming
After The Daily Mail shared a photo of Geoffrey Owens working at a Trader Joe's in New Jersey (which Fox News later covered causing the story to go viral), the former The Cosby Show actor appeared on Good Morning America wearing his Trader Joe's name tag and bearing a message for anyone who shames fellow humans for working to earn a living.
Karma Lawrence was shopping at the Clifton Trader Joe's where Owens works and decided to photograph the actor and alert the press — literally. Lawrence tells The Daily Mail that she and her wife figured out who Owens was and confirmed it via the internet. "She looked at him and said, 'It looks like him. He's a little heavier,'" says Lawrence.
She went on to patronize him thoroughly and question why he was working the cash register at TJ's instead of continuing his acting career. "I would have thought after The Cosby Show he would maybe be doing something different. It was a shock to see him working there and looking the way he did," she says.
"It made me feel really bad. I was like, 'Wow, all those years of doing the show and you ended up as a cashier.'" she said.
As it turns out, Owens isn't feeling at all sorry for himself, which he explained during his GMA interview today. "There is no job that's better than another job," he said. "It might pay better, it might have better benefits, it might look better on a resume and on paper, but actually it's not better. Every job is worthwhile and valuable."
Owens, who appeared on the NBC sitcom from 1989-1992 as Sondra Huxtable's boyfriend Elvin Tibideaux, appeared extremely comfortable and happy in the interview, wearing a cap from Yale (he graduated cum laude in 1983) and the name tag that he wears to his second job. He explained calmly and clearly that the job worked for him – and that he wasn't ashamed.
"I got to a point where I'd been teaching, acting, directing for thirty-plus years, but it got to a point where it just didn't add up enough and you gotta do what you got to do," he said during the interview. "I didn't advertise that I was at Trader Joe's, not that I was ashamed of it, but because I didn't want the entertainment community to kind of decide, 'Well, he's doing that, he's not pursuing acting anymore.' I felt like I had to be careful about that."
But he didn't just leave it about him and his experience working. He had a message for anyone working any kind of job, under any circumstances.
"This business of my being this 'Cosby' guy who got shamed for working at Trader Joe's, that's going to pass," he said. "But I hope what doesn't pass is this idea, this rethinking about what it means to work, the honor of the working person and the dignity of work. And, I hope that this period that we're in now, where we have a heightened sensitivity about that and a reevaluation of what it means to work, and a reevaluation of the idea that some jobs are better than others because that's actually not true."
Since his stint on The Cosby Show, Owens has appeared on a number of shows and in a number of productions, including It's Always Sunny in Philadelphia, That's So Raven, The Slap, Lucifer, and the Shakespeare Theater Company's production of Julius Caesar. He's also taught and directed.
A number of prominent writers, producers, and actors voiced their support for their colleague — offering words of empathy, understanding, support, and kudos.
At the same time, actors who have engaged in "gigging" or worked day jobs to follow their dream also chimed in with thanks and support.
It also turns out that Geoffrey Owens isn't just an inspiration when it comes to speaking out about the dignity of honest work and following your dreams. After all of the publicity, one Twitter user came forward to share how Owens and his wife supported him in his time of need 22 years ago.
It almost seems like what started out as shaming and embarrassment has only ended with good things for the actor, who shared his gratitude during the interview.
"No one should feel sorry for me, either from a positive or a negative perspective," he said. "I've had a great life, I've had a great career, and I've had a career that most actors would die for."
Though Owen said he didn't want to directly benefit from the incident, in the form of job offers, producers like Tyler Perry were already asking the actor to join projects hours after the interview.
There's no word on whether Owens will take Perry up on his offer, but wherever his next paycheck comes from, it will surely be well-deserved.
This article was originally published on